Heart-pounding hauntings await at The Haunted Hotel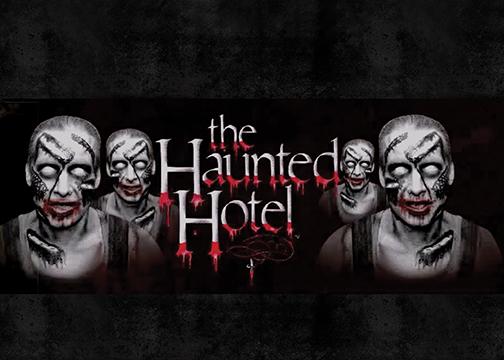 If you're looking for a scare this Halloween, look no further than The Haunted Hotel in San Diego's Gaslamp Quarter. The Haunted Hotel is the longest running haunted attraction in San Diego, scaring participants for more than 20 years.
My recommendation would be to park in the garage on Sixth St. because they charge hourly. After parking, make a right onto Market St. and The Haunted Hotel will be on your right-hand side. Participants have the opportunity to buy tickets online, or pay $18 cash at the attraction.
What I would not recommend is attending The Haunted House by yourself — which I did. Luckily for me, I met an amazing group of San Diego State seniors, who kindly invited me into their group so I wouldn't have to walk through the maze alone. After we were led into a large room and separated into four lines, we were reminded that any use of a camera or recording device is prohibited. After the short spiel concluded, we commenced downstairs to another series of lines, which took less than five minutes.
In my opinion, the first two areas of The Haunted Hotel were the most terrifying, but not to spoil the surprise, just remember to beware of the elevator. After the terrifying elevator experience we entered what looked to be a solitary confinement room inside an insane asylum, complete with strobe lights operating at high speed. After leaving that area, I guarantee your eyes will still be blurry from the lights, but it doesn't matter because next you have to find your way out of a completely pitch black hallway. Don't be afraid to grab the person's shoulder in front of you, I noticed scared attendees like to stick together. After finally finding our way out of the darkness we entered what looked to me like an underground sewer. Watch out for the hands reaching out of the bars in the walls.
Next we wandered into a spooky doll forest, with doll heads hanging from the trees around us. I'm not a huge fan of dolls so I tried to escape the terror as fast as physically possible. As we escaped the spine-chilling doll forest, it got significantly colder, which made sense because we were walking into a gigantic freezer complete with actors crawling around on the floor and banging on the Plexiglas walls. After walking through the life-sized freezer we entered a human torture chamber covered in blood and bodies, which fittingly led into a diner. Probably not the best place to sit down and eat a cheeseburger.
After leaving the health-code disaster of a diner, we proceeded into an area full of brightly colored maniacal clowns with squeaky horns around every corner. If clowns are not your cup of tea, I would recommend keeping your eyes closed through this area. As you escape the clowns the attraction looks like it's coming to an end, but I assure you it's not over yet. Not to spoil all the fun, but let's put it this way, when you hear the chainsaw, run as fast as you can up the stairs.
Take advantage of The Haunted Hotel, as it is a seasonal attraction in San Diego and is definitely worth the money spent for a heart-pounding thrill.