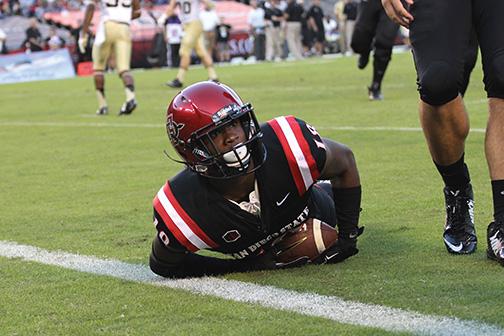 The San Diego State Aztecs football team narrowly averted disaster on Saturday night, winning a game that was closer than even the scoreboard indicated.
It wasn't pretty, but a 35-21 Aztec win is still a win — even if the University of Idaho entered the game with a 1-7 overall record.
"In college football today, it doesn't matter who you're playing," head coach Rocky Long said after the game. "It's how you play, you know?"
If that statement doesn't perfectly sum up the Aztecs' 2014 season, I don't know what does.
This Aztecs team fights. It scratches. It claws. It puts fans on the edges of their seats and forces them to feverishly gnaw at their fingernails.
Even still, the team is in contention for a Mountain West title heading into the rest of the season with a 5-4 overall record (3-2 MW).
Some might say this was an ugly win against an awful team. But ugly isn't the right word.
Saturday's game was a character win.
I shudder at the clichéd nature of what I just wrote. I'm sure a couple of my professors are shaking their heads about it too.
But if the cleat fits, you should probably wear it.
Long acknowledged after the game that Idaho's Vandals came out swinging, playing with more physicality and intensity than what SDSU had seen on tape.
The Aztecs opened with a 65-yard touchdown drive capped off by a 24-yard scoring pass to senior wide receiver Ezell Ruffin. By the way, it's nice to see Ruffin getting back into the swing of things after missing time with an injury. But more on that later.
Idaho answered SDSU's score with one of their own on a 75-yard touchdown drive. The Vandals and Aztecs traded blows throughout the first half, each scoring once more on long, grinding drives. It set the tone for the remainder of the game.
Tied at 14 against seemingly one of the worst teams in the country, it would have been easy for the Aztecs to be overly dismayed at halftime.
But they showed character.
Long told the team it was in for a fight during the halftime break.
"Whether they expected it or not, it was a game," Long said. "(The players) better have the will to do whatever they needed to win, and so they stepped up."
My guess is that Long's actual phraseology was less publishable, but his words must have been inspiring either way.
The defense came out and stuffed the Idaho offense for three straight quick three-and-outs, before the offense drove 61 yards for another touchdown behind three completions from senior quarterback Quinn Kaehler and a short touchdown run from junior running back Chase Price.
Kaehler is a big reason as to why I'm saying this game was a character win. He's been victimized by opposing defenses and critics alike this season but bounced back in a big way on Saturday evening, completing more than 60 percent of his passes for 249 yards and three touchdowns. He was also sacked four times, but stood tough in the pocket and committed no turnovers.
In other words, he showed character.
Part of his success is owed to Ruffin, who caught four passes for 86 yards and two touchdowns. Last week was Ruffin's first game back from injury and he had little-to-no affect on the game. Saturday was obviously a different story and Ruffin's impact moving forward will help the other Aztec receivers, including sophomore Eric Judge who zipped past multiple Vandal defenders en-route to a 58-yard touchdown in the game.
But even with Kaehler's high level of play, the game was close in the fourth quarter. Down by only a touchdown, the Vandals carved up SDSU's defense and were in Aztec territory just three plays into a drive that started at Idaho's own 26-yard line.
Soon enough, it was third and two for the Vandals inside the Aztecs' 10-yard line. Remember the fingernail chewing I was talking about?
And then just when it needed it most, the defense showed ultimate character.
Sophomore defensive lineman Alex Barrett forced the Idaho runner to fumble the ball, which was recovered by senior linebacker Josh Gavert, giving the Aztecs momentum they would give back on their way to a homecoming victory.
Looking forward, Long said he feels good since the team won. The Aztecs go on the road next week against Boise State University and then finish the season with home games against Air Force Academy and California State University, San Jose.
If the team is to fulfill its goals of being the Mountain West champion, it has no choice but to keep showing great character in tight games.
Because scratching out close wins is just how the 2014 Aztecs do things.