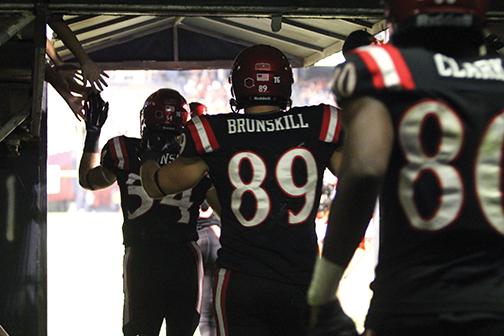 The San Diego State football team holds a 20-10 lead against Boise State University at halftime in Boise. where the Aztecs are playing in their coldest game in program history at 9 degrees.
SDSU's defense held the No. 16 scoring offense in the country to just 10 points, thanks to interceptions from senior cornerback J.J. Whittaker and sophomore linebacker Calvin Munson.
Boise State's leading rusher Jay Ajayi, who was the No. 16-leading-rusher coming into the game, was held to 26 yards on 10 carries.
Sophomore running back Donnel Pumphrey is off to another impressive start, and had 14 carries for 89 yards and a 32-yard touchdown which gave the Aztecs a 10-0 lead in the first quarter.
The other score came on a six-yard touchdown pass from senior quarterback Quinn Kaehler to sophomore tight end Daniel Brunskill.
Junior kicker Donny Hageman also drilled two field goals in the first half, one from 41 yards out, and the other from 30 yards out.