Aztecs offense struggles in Washington loss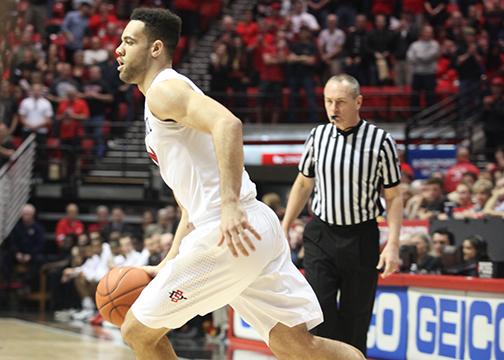 The then-No. 13 San Diego State Aztecs suffered their second loss of the season Sunday night, falling to the University of Washington 49-36. The defeat ended SDSU's 53-game winning streak against unranked non-conference opponents, and its 17-game win streak against schools in the Pacific Time Zone.
The Aztecs put forth their worst shooting performance of the season, going 11-54 from the field including 2-15 from 3-point territory. The SDSU starters combined to shoot just 4-36 from the field and tallied just one assist in the contest.
Junior forward Skylar Spencer, who set a career-high in rebounds with 13, gave SDSU its only lead of the night with two early free throws. Washington senior forward Shawn Kemp Jr. answered with a dunk on the next possession, kicking off an 8-0 scoring run for the Huskies. Washington never trailed in the game after that point.
The Aztecs missed their first nine shots from the field before senior forward J.J. O'Brien snuck in a layup at the 14:20 mark in the first half. Junior forward Angelo Chol's dunk at the 9:11 mark shrank the Washington lead to two points, but SDSU proceeded to miss its next 12 shots from the floor. Senior forward Dwayne Polee II ended the nine-minute scoring drought by sinking a 3-pointer with 11 seconds left to play in the half.
"We went through a stretch where we just lowered our heads and just drove with no thoughtfulness," head coach Steve Fisher said. "We drove for ourselves rather than driving for others. We drove in and there were three people standing there, and the result was 20 percent or less than 20 percent. Washington had a lot to do with it."
The Aztecs scored just 15 points in the first half on 16.7 percent shooting. If it wasn't for their defense holding the Huskies to 8-23 from the floor, the 21-15 halftime score could have been a lot worse.
The script read the same for SDSU in the second half. The Aztecs missed their first five shots out of halftime before junior guard Winston Shepard tipped in an O'Brien miss. Shepard brought the Aztecs within four points with another layup, but they went on to miss their next 10 shots from the floor in an 11:30-minute stretch. SDSU put just six points on the board in that time, all of which came on free throws, while Washington tacked on 22.
"Our offense was bad," Fisher said. "That's the only way you could put it, and they had a lot to do with that. We had a lot to do with that."
Shepard led all Aztec scorers with seven points and six rebounds in 24 minutes, but coughed up the ball four times and failed to record an assist or steal. Shepard was the only SDSU starter that made more than one shot from the field. In its last three games, SDSU is just 38-72 from the free throw line.
Washington's sophomore point guard Nigel Williams-Goss had a game-high 15 points on 6-12 shooting and pulled down six rebounds in 36 minutes. Junior guard Andrew Andrews added another 13 points in 36 minutes for the Huskies.
SDSU, now 6-2 on the season, will travel back to San Diego to prepare for California State University, Long Beach on Wednesday night. Tip-off is at 7 p.m. at Viejas Arena.