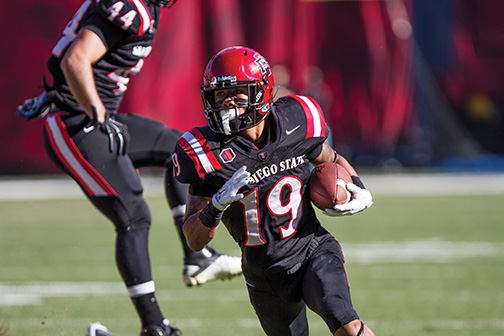 Only 23,408 fans attended last year's San Diego County Credit Union Poinsettia Bowl that featured Utah State University and Northern Illinois University. Expedia lists a round-trip plane ticket from Salt Lake City to San Diego at $304 and $622 from Chicago, so it's not hard to figure out why fans of those schools didn't make the trip to America's Finest City.
But this year's Poinsettia Bowl, featuring San Diego State and the Naval Academy, should pack a significantly larger crowd at Qualcomm Stadium. About 48,000 people work at Naval Base San Diego and an average of 32,294 red-and-black clad fans attended Aztec home games this year. And all those people can simply drive over to the Q on Dec. 23.
"We're excited about staying home, we're excited about going to this bowl game and the matchup is perfect for San Diego," head coach Rocky Long said. "Since we're a Navy town, I'm sure there are bragging rights involved."
The Midshipmen are 6-5 on the season with the annual Army-Navy game coming up this Saturday. This will be Navy's 11th bowl game in 12 seasons. They have a couple solid wins against Temple University and San Jose State University. They also led then-No. 5 Ohio State University 7-6 at halftime in their season opener and led then-No. 10 Notre Dame 31-28 heading into the fourth quarter.
A lot of Navy's 2014 success came thanks to junior quarterback Keenan Reynolds, whose numbers are pretty staggering. His 1,028 rushing yards and 20 rushing touchdowns both rank first among Football Bowl Subdivision quarterbacks. He's a big-play threat through the air, too, as he leads the country with 17.4 yards per completion.
Reynolds leads a wishbone triple-option offense that gains 358 rushing yards per game, good for first in the country by a 20-yard margin. .
"On the chalkboard (a triple-option offense) wins every single time," Long said. "It's the biggest challenge I face every year."
By the numbers Navy's defense isn't quite as scary. It allows about 30 points and almost 200 rushing yards per game, good for 89th and 96th in the country, respectively. It finished the 2014 campaign allowing 40 points to a South Alabama University team scoring just 22 points per game.
But senior quarterback Quinn Kaehler said he's noticed something about the Midshipmen defense that will provide a big-time challenge on game day: their discipline.
"They are disciplined in what they do," he said. "They're not going to give you any cheap plays and we're going to have to work hard for all the yards that we get."
More than 48,000 fans watched these two teams battle in the 2010 Poinsettia Bowl — and that game was one day after the Q was flooded with 1.5 million gallons of rainwater. With the game-day forecast showing clear and sunny skies, it's safe to assume the weather won't be a factor for overall attendance.
SDSU and Navy play at 6:30 p.m. on Dec. 23. The game will be televised on ESPN.
SDSU students can buy tickets to the game at the Viejas Arena ticket office with a valid Red ID. The first 500 students to purchase tickets will receive a discounted price of $10. Remaining students can buy their ticket for $35 and two additional tickets for the same price.