Delta Sigma Phi shuts down at SDSU after string of misconduct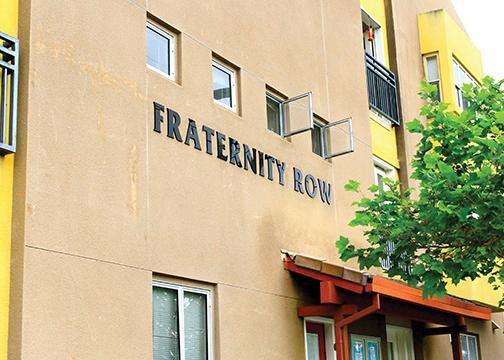 Updated at 12:35 p.m.
Delta Sigma Phi has shut down the local San Diego State chapter as a result of a string of violations, including the harassment during an anti-rape rally in November.
"After learning of widespread member misconduct issues, the National Fraternity determined it was not in the best interest of Delta Sigma Phi to continue operating the Gamma Alpha Chapter," Executive Director Patrick Jessee said in a statement.
Hazing and alcohol misconduct are among the other reasons the national headquarter will not be allowed to reinstate the Gamma Alpha chapter until at least fall 2016.
Student Life and Leadership had spoken to the local chapter throughout the semester about its misconduct, SDSU Chief Communications Officer Gregg Block said.
Most recently, on Nov. 21 during an anti-rape Take Back the Night demonstration, Delta Sigma Phi members waved dildos at protestors.
"The fraternity cannot, and will not, tolerate blatant disregard toward our policies and standards for our members," Jessee said.
Approximately 90 SDSU students were members of the local chapter.
"Fraternity staff, alumni who own the house and Student Life and Leadership staff are still working through the complexities of the chapter facility, members' housing needs, and long-term plans," Jessee said.
The members of Delta Sigma Phi will be allowed to continue to live in their apartment complex on fraternity row, but it cannot be used as a fraternity house. Executive leadership members will also be allowed to continue to live in their specified housing in the front of the complex. According to KPBS, there will be some limitations on what the men are allowed to do in the university housing.
"The students are not permitted to convene in the courtyard or in the common areas of the house," an SDSU spokesperson said in an email to KPBS.
Additional investigations
Student Affairs will investigate SDSU Delta Sigma Phi members involved in the harassment of ant-rape demonstrators for possible violations of the student code of conduct and the Title IX policy, which prohibits discrimination based on sex in educational settings.
"There is no place in our campus community for the type of ongoing behaviors displayed by those involved with this fraternity chapter, " Vice President for Student Affairs Eric Rivera said in a statement. "We appreciate the willingness of the national office of Delta Sigma Phi to step in and address these issues and take action with us."
SLL has also interviewed Sigma Phi Epsilon members for allegedly yelling obscenities at protestors during the rally. There has been no resolution and the investigation is ongoing, Block said.
The InterFraternity Council suspended social activities on Nov. 25 following the allegations from demonstrators in an effort to educate its members about sexual assault.
In April 2013, Sigma Chi fraternity removed its SDSU chapter because of hazing misconduct.