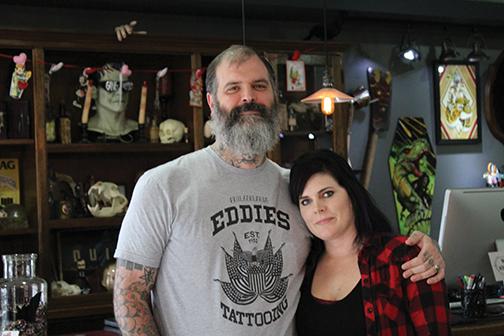 For the past few years, one of the most hip places to be in San Diego has been the up-and-coming, eclectic neighborhood of South Park. With an influx of people flocking to the prime location each day for good eats and unique shopping, it's no wonder why property values have also been on the rise. Some of its popularity needs to be accredited to the neighborhood's unique local business scene, and one business that should not be overlooked is Left Hand Black Tattoo Studio and Gallery.
Before settling into its current location on Fern Street in the heart of the South Park neighborhood, Left Hand Black began as a private studio in North County, when artist Adam Turk was first urged by his wife, Crystal, to start his own shop.
"I used to work at Guru Tattoo in Pacific Beach for like six years and had the grand idea to start a private studio," Turk said. "She told me to get out of there and do my own thing."
After growing tired of working alone and missing the inspiration that comes with working with other talented artists, Turk and Crystal sought ways to expand Left Hand Black.
"We put our heads together about how we were going to do a bigger shop. We did tons and tons of searching through all kinds of areas," Turk said.
Both San Diego natives, the couple wanted a location in the historic South Park neighborhood, but had to deal with the building owner's concerns over the common biker and drug stigma commonly associated with tattoo shops.
"The building owners were kind of old school and not really OK with a tattoo shop, but then they found out that we are more of a gallery and custom studio," Crystal said. "We had to make them understand that we weren't that type of shop."
Now a full custom and professional tattoo studio, Left Hand Black has created a buzz regarding its distinct approach to the tattoo industry since the shop's opening in July 2012. Upon entry to the shop, it's easy to see why. With a far-from-average décor that incorporates the couple's personal style, Left Hand Black focuses on an aesthetic that caters to the bizarre. The tattoo shop piques visitor's curiosity with its array of antiques, oddities, taxidermy and a full-fledged art gallery.
Left Hand Black, named after an obscure Danzig reference, oozes artistic appeal with its talented artists, who specialize in different styles from black-and-grey portraits to sacred geometry and dot work.
Turk, who has been tattooing professionally for more than 15 years, specializes in large-scale pieces with bold and dynamic illustration, putting a twist on traditional style tattoos. He has been featured in world-renowned tattoo publications and has also won multiple awards for his artwork.
Although there are several other tattoo shops in the South Park area, Turk says the businesses don't interfere with each other.
"Nobody is really stepping on anyone's toes," he said. "Everyone's doing something different."
Left Hand Black has been doing its own thing since its conception. The husband-and-wife team has executed their unique vision by carefully choosing everything from location to its artists.
Other distinct features at Left Hand Black include its events, such as bi-monthly art exhibits. Crystal, who also handles much of the shop's business aspects, has organized numerous shows in the past, including the intriguing Horror Business art series that featured paintings on meat cleavers from top artists from around the world.
Starting tomorrow it'll be a busy weekend for Left Hand Black as they will have special Friday the 13th   tattoo designs from pre-set flash sheets for $13 and $31. On Saturday, Feb. 14, the shop will be hosting its third annual Till Death group art show from 6-10 p.m. in honor of Valentine's Day.
"Every Valentine's Day is boring: you go to dinner, you get flowers," Crystal said. "It gives people the perfect thing to do in the neighborhood for Valentine's."
With the theme "romance, love or lack thereof," the Till Death show will feature works such as tattoo art, fine art, sculpture and taxidermy from over 50 artists, local and abroad. The Left Hand Black owners have taken copious amounts of time, care and effort in order to organize which artists and artwork would be chosen.
"This show is always a surprise because everybody has their own way of interpreting the theme," Crystal said.
Left Hand Black will also be serving free specially brewed Till Death beer with a valid ID and will be giving away free giclee prints made by Turk with any art show purchase.
Instead of simply blending into the neighborhood, Left Hand Black Tattoo Studio and Gallery stands out, staying true to a vision of individuality with a one-of-a-kind ambiance and high standards of professionalism.