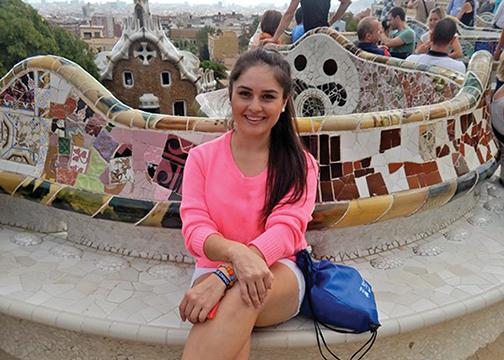 After traveling to Spain with the San Diego State exchange program for the 2013-14 academic year, accounting senior Alma Alvarez is now a peer adviser in the Study Abroad Office on campus.
Being a peer adviser gives students looking to study abroad an inside perspective on everything from the program that fits their needs to the countries available based on their preferences. Students can walk into the office and receive the information and advice they need to help them make their choice on a program or country.
"Every peer adviser in the office is a study abroad program alumni, and everyone has been to different countries all around the world," Alvarez said. "The advice I have for students that are looking to study abroad is to look into the different programs. Everything depends on the program, and one may fit your situation better or may be cheaper than another."
As a peer adviser, Alvarez gets the opportunity to calm students' fears about traveling to different countries around the world. Many students are afraid to travel to a country where they are unfamiliar with the language.
"Knowing the language in a country you're traveling to is always helpful, but not knowing the country's language should not prevent a student from studying in that country," Alvarez said. "I always tell students not to worry because most academic programs offer classes in English."
It's helpful to remember that some majors or minors require students to study abroad, whereas others don't. In her case, Alvarez was required to study abroad not for her major, but for her international studies minor.
Alvarez traveled alone to a small city in Spain called Zaragoza, which is located halfway between Barcelona and Madrid. Alvarez was the only student from SDSU that attended Universidad de Zaragoza at the time.
The exchange program, one of the study abroad programs at SDSU, offers students the opportunity to study abroad without breaking the bank.
"Traveling abroad through the exchange program was very affordable," Alvarez said. "I paid the exact same tuition and fees as I would here and all I had to worry about was my housing abroad, airline ticket, and additional expenses."
Students must also remember every country's money system is a little bit different. Some countries are more expensive than others depending on the area and time of year.
"I was very lucky because the cost of living in Zaragoza is cheaper than the cost of living here in San Diego," Alvarez said. "I paid half the price of housing I would have paid here in the States and I was able to have my own room abroad."
No matter which country the student chooses to visit, there's always an aspect that doesn't meet their preconceived expectations. For Alvarez, that aspect was the food in Spain.
"The food in Spain is really just okay, it's not the best — but the sangria definitely was," Alvarez said.
She said that, surprisingly, beer in Spain is actually cheaper than water.
"Overall, studying abroad was a great experience," Alvarez said. "Traveling helps you become more open-minded and see the world from an entirely new perspective, as well as learn about a culture that's entirely different than your own."