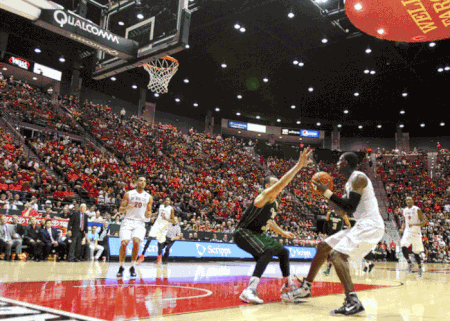 Here's how Drugs.com describes a dislocated finger: "A dislocated finger is crooked, painful and swollen, and its surface skin may be cut, scraped or bruised. If a dislocated finger has been straightened on the playing field, it may feel abnormally loose, weak or unstable afterward."
According to WebMD.com, one should see a doctor "at once" after dislocating a finger and should apply an ice pack while elevating the injury above heart level.
Neither site suggests playing a basketball game to help remedy the painful situation. Nor does either site indicate a double-double could help cure the injury.
But that's what junior forward Winston Shepard did Saturday night at Viejas Arena, scoring 19 points and grabbing 11 boards as his Aztecs beat the Colorado State University Rams 72-63.
"(My pinky's) hurting right now, but my pinkies were already crooked before," Shepard said. "It'll be all right. I felt it (during the second half), but like I told coach, I don't go left that much anyways, so I'll be all right."
Late in the first half Shepard drove along the baseline to the hoop, but CSU senior forward J.J. Avila stood in the way and knocked the ball out of bounds. Shepard immediately grimaced and clenched his fist. When he unclenched, those close enough could see his left pinky was bent in a way no human appendage should be.
SDSU head athletic trainer Tim Abdenour taped Shepard up and the junior Aztec went on to score 10 points and grab eight boards in the second half en route to his second career double-double.
The Aztecs began this game much like they did against University of Wyoming: on a tear.
SDSU outscored the Rams 10-3 and held them to 1-9 shooting in the first 5:05.
Avila picked up his game after that stretch, though, and scored nine of his 24 points during the next 8:14 to spur a Rams' 17-9 scoring run that put them ahead 20-19.
SDSU snatched the momentum right back with nine straight points from senior forward J.J. O'Brien. While leading 28-24, junior forward Skylar Spencer swatted away a would-be layup and Shepard quickly followed that with a corner-3-pointer that shook Viejas like it hasn't shaken all year.
The Aztecs finished the first half on an 11-2 scoring run to take a 37-26 lead, and the Rams never got within six points in the second half.
Junior forward Skylar Spencer almost earned himself a triple-double, scoring nine points to go along with six boards and six blocks.
But his most memorable stat of the night might have been his 5-6 clip from the charity stripe.
"I've been working on free throws. You can ask anybody," he said. "I've been spending extra time on that, so any time I get to go to the line and knock them down I'm confident in doing that."
Last week was significant for SDSU, as it beat two of the three biggest challengers for the MW regular-season crown and gave itself some cushion atop the conference standings.
"Coming off a loss at Boise State, that was tough," Shepard said. "Then the back door had to play probably two of the top three or four teams in the conference, we could be sitting here looking at 8-5 instead of 10-3. That just speaks to the guys we have in our locker room, our coaching staff, how much we love the game and how competitive we are to not let our team slide or get into a slump."
SDSU next travels to play the University of New Mexico Lobos (14-11, 6-7 MW) at The Pit. Tipoff is at 6:30 p.m. on Feb. 17. Fans can watch the game on CBS Sports Network or tune in to The Mighty 1090 AM.