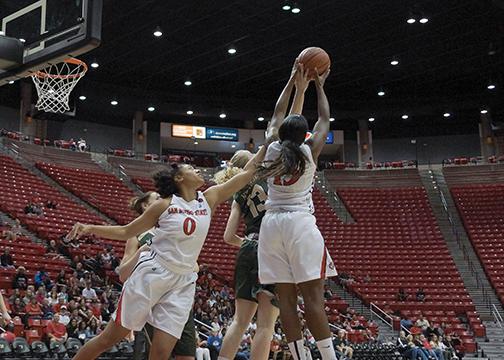 The San Diego State women's basketball team was once again unable to put together a strong second half against Colorado State University and left Moby Arena with a loss of 65-42 last Saturday.
The second half was an offensive nightmare for SDSU (9-15, 6-7 Mountain West) as every shot was contested by the stingy Rams' (18-6, 10-3 MW) defense that limited the road team to 13 points, a season-low for the Aztecs, on 28.6-percent shooting. A lack of production can be traced to going 0-6 from beyond the arc and only three free-throw attempts.
CSU was methodical on the defensive end of the court, forcing SDSU to eat up the entire shot clock. That limited SDSU's 3-point attempts, which spelled its doom.
SDSU's frontcourt duo of redshirt-junior forward Erimma Amarikwa and senior forward Khristina Hunter, the linchpins of the Aztec offense, felt the brunt of the Rams' defense as they were limited to a mere three points between them and combined for five turnovers.
The freshmen guard pair of McKynzie Fort and Lexy Thorderson carried SDSU, tallying 25 of the red-and-black's 42 points as they were the lone bright spots for what was a rather poor shooting night for the team as a whole.
SDSU was in a great position to take over the game midway through the first half only down 13-12 after a Fort jumper. However, the Rams were able to have their way from the 3-point line the entire first half, draining eight, and continued that success from then on as their next 15 of 25 points were from 3-point land.
A last-second 3-pointer by junior guard Jamie Patrick washed away any momentum the Aztecs built by cutting the lead to single digits, giving the Rams a 38-29 lead heading into the half.
CSU opened the second half scoring the first six points, but SDSU responded with their own 6-0 run with two Fort jumpers and Amarikwa's only basket of the game, which cut the Rams lead back to single digits, 44-35, with 12:45 left.
From there CSU closed on a 21-7 run and SDSU head coach Stacie Terry's squad never threatened again. It did not help that the Aztecs committed 10 of their 14 second-half turnovers from that point forward.
The Rams ended the match with five players scoring more than seven points, with senior guard AJ Newton and Patrick topping the double-digit mark. CSU also held a 23-6 edge in points off turnovers.
The Aztecs return to Viejas on Wednesday, Feb. 18, to open the final two-game homestand of the season by playing host to University of New Mexico.