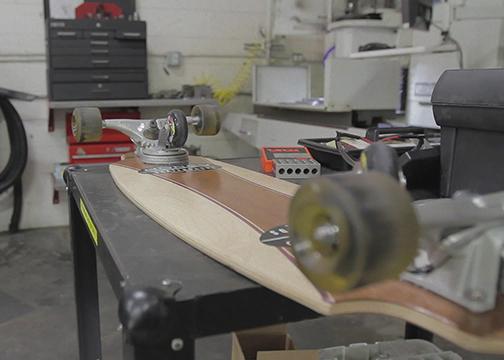 Imagine being able to skateboard on the street like the pavement is snow or pure ice. It's with this and more in mind that San Diego State alumni Jay Bermal and Cynthia Cruz have crafted Reincarnate Skateboarding.
The goal of Reincarnate is to market a board that blends the move-set of snowboarding with the versatility of a skateboard. It allows the rider to go downhill at an angle similar to that of a snowboard, while also being able to kick off and gain speed on a level surface like a skateboard. It's an evolution of an earlier product named Freebord, which allowed for similar snowboard-like maneuvers. This will appeal to both snowboarders and skateboarders.
Having graduated in 2003 with a degree in mechanical engineering, Bermal has experience in both skateboarding and design and has researched computer lighting and flotation devices.  Reincarnate's newly patented board allows for more versatility, such as all six wheels on the ground, whereas the Freebord has to balance on two, resulting in a "rocker feel."
All of this results in a board that can be taken across town, around the block or downhill.
"Cruz, a 2002 management information systems graduate, helps with the marketing and design of Reincarnate.
"We'd like to see this product on as big a scale as, say, an average skateboard," said Cruz.
The education they received at SDSU was also an important aspect of their journey. The engineering skills Bermal received helped him establish the new patent for his board, while the information technology skills Cruz learned helped her to establish the product's online presence.
"There's always room for improvement, for creativity," said Bermal.
Bermal and Cruz intend to market their board on a broad scale, with the main source of funding coming from themselves and their Kickstarter project. The company is largely run by the two, with some assistance from friends. The Kickstarter goal is $120,000 with an end date of March 12.  The funds are planned to go toward further marketing the board and getting products out to the public.
Bermal hopes to have a big impact around San Diego with Reincarnate. Local SDSU students with skate, snow, and surf expertise would be right at home with the board.
"With the ability to kick off and not be bound to the board, Reincarnate's board offers much more versatility in an everyday setting that, after the learning curve, should appeal to any skater out there," Bermal said.