Aztecs to play home-and-home vs. UC Riverside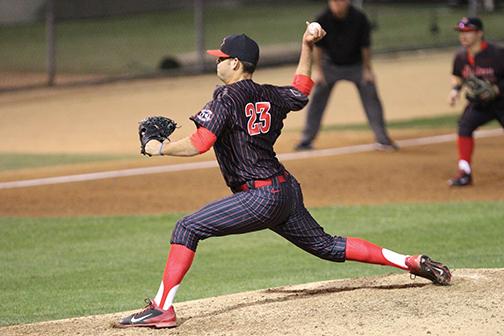 San Diego State's baseball team defeated University of California, Riverside all three times they played last season. Each game was decided by a single run.
This season head coach Mark Martinez is expecting more of the same when these two teams square off for a four-game series this weekend.
"It's going to be a dog fight," Martinez said. "There's no easy out in their lineup and they are a very talented team overall. They're going to challenge us."
It will be an odd four-game series, as the teams will play the first two games at Tony Gwynn Stadium and then will head up the freeway to Riverside Sports Complex to play the remaining two games.
The decision to play the home-and-home series with the Highlanders dates back to when the baseball team was set to move to the Big West a couple seasons ago, leaving UCR without a series this season.
Martinez doesn't mind the extra game though.
"It gives us a chance to play and get more experience against quality competition," Martinez said. "We've been pretty anxious to get this season going. I don't think the players care all that much about the extra game."
SDSU's excitement showed, as it came out firing in its opening series with a sweep of the Valparaiso University Crusaders.
Junior right-hander Bubba Derby set the tone on Friday night striking out 14 in 5.2 innings. Then the offense came alive with 22 runs on Saturday night. Sunday's game featured junior right-hander Mark Seyler, who capped the series off with six shutout innings to help secure the sweep.
"It's a long season, so we don't want to get ahead of ourselves, but you love to start the season off like that," Martinez said.
SDSU completed the sweep but it wasn't all peachy, as the bullpen struggled to preserve leads outside of Sunday.
The bullpen allowed 11 earned runs between 10 different pitchers during Friday's and Saturday's games.
Although that was not ideal, it gave Martinez the chance to use a lot of different arms in his bullpen, something he had planned on doing regardless of the lead changes.
"We wanted to get a look at what we had, that's something you always try do early in the season," Martinez said. "I don't think we expected to use quite as many arms as we did, but we got a lot of different guys some experience."
One pitcher who separated himself from the pack was junior right-hander Zach Oakley.
Oakley, who pitches with a sidewinding motion, picked up the save on Friday night and pitched two scoreless innings on Sunday to help secure the win.
"Zach's someone who we're going to lean on heavily this season," Martinez said. "Especially considering his arm motion, he's someone who's probably going to pitch more than once a weekend."
While the Aztecs have started the season out hot, UCR has been pretty hot themselves.
The Highlanders completed a four-game sweep at home against University of Portland. Riverside is batting .338 on the young season.
Martinez noted that UCR's pitching staff will also be a step up from what the Aztecs saw against Valparaiso.
That's good news for the Highlanders, because the Aztecs crushed Valparaiso batting .365 with two home runs and 26 RBIs.
As far as the Aztecs pitching staff is concerned, Martinez will not alter his rotation and use sophomore right-handed pitcher Cody Thompson on Thursday to keep Derby on track for Friday, sophomore left-hander Brett Seeburger on Saturday and Seyler on Sunday.
Martinez knows his staff will be challenged this weekend, but has faith that his guys will get the job done.
"You can't circle one player in their lineup, because everyone can hit, we'll have to be on our toes," Martinez said. "Our guys have faced teams like this, though, and they know they can come out victorious."