A European experience: Top 5 reasons to study abroad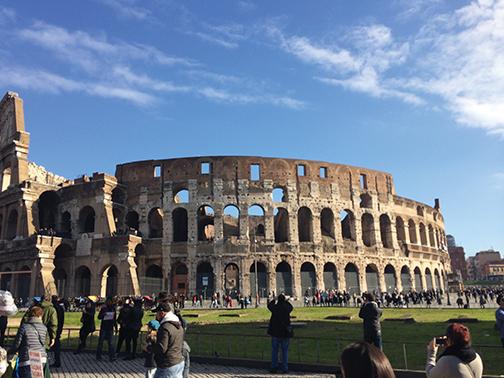 At San Diego State, studying abroad is popular, but it's not for everyone. For certain reasons, I'm one of those people who didn't have a desire to leave for a semester to study abroad.
It wasn't until the summer before my senior year that I realized I didn't have much worldly experience. I knew I wanted to travel, but I also knew I didn't have a lot of time to do it. I decided to do some research and found out the only time I could squeeze in some traveling was during winter break, so I just went for it. I planned a four-week excursion through Austria, London, Paris, Rome and Germany, along with a pit stop in New York City on the way back home. After being gone for just over a month, I learned a few things about traversing the globe and taking advantage opportunities in front of me.
1. Booking a trip teaches you to plan
I booked part of my trip through EF College Break, a program catered to college-aged students. I spent 12 days with this group in London, Paris and Rome, but before that I was with family in Austria for one week and family in London for four days. After the 12-day tour was over, I flew to Germany to stay with friends. Since I did some outside traveling, I was worried about combining it with the travel group, but EF was accommodating and allowed me to fly in earlier than everyone else and leave later than them too. This in itself was a major pro. If you have not done a European adventure before and you're apprehensive to travel by yourself, I suggest finding a program such as EF College Break. The program won't just connect you with people your age, also plan everything for you, including transportation. From the Mona Lisa at the Louvre in Paris, to the Sistine Chapel in the Vatican City, to the pub in Oxford where C.S. Lewis spent most of his time, it was easy to see what I wanted to because I always had a way of getting there without a worry for the most part.
2. Studying abroad makes you a well-rounded person
Since I traveled to five countries in just four weeks, I saw a lot in a short time. Regardless, I still remember everything and loved every moment I was traveling, even if it was freezing. Talking about your travel experience is a very easy conversation starter, especially when it comes to networking for a job. Some of you might be reading this and thinking it's silly that I'm bringing this up, but telling a potential employer that you've traveled let's him or her know that you're an open-minded person. That's what traveling does for you: It forces you out of your everyday routine to experience and see new things.
3. Studying abroad replaces a dull, laborious semester
When you're in the middle of midterms or finals, you tend to want to be anywhere but studying. This trip gave me that "light at the end of the tunnel" feeling. I knew I was going to meet a lot of people on my trip, so it was exciting to think about that during the fall semester leading up to my trip. Also, as a side note, what do you even do during a month long winter break? I know most of us might take a few small trips, but it's mostly a time to work and see family, or just relax. Instead of having that boring winter break in which you don't see your friends for over four weeks, plan a major trip to a different country to make your winter vacation worth it.
4. Traveling teaches you to let go of baggage 
This is a lesson in itself, and I believe it will help anyone before they enter post-grad life. When you're traveling for a long period of time and going to more than two countries, you'll find out quickly that having more than one bag is really just a nuisance. For this particular trip, I had to bring a lot of layers. I wasn't about to freeze in Europe just because I was trying to be a conservative packer. However, if possible, bring what you need and you won't have to worry about an extra bag to pull or throw over your shoulder. I checked a giant suitcase and had a rolling carry-on and I wish I had nixed the carry-on because when you're trying to catch your flight from Munich to New York at five in the morning, the last thing you want to worry about is pulling two suitcases behind you. Research the places you're going to ahead of time so that you know what to bring.
5. You learn to spend money on valuable experiences
There is always one thing we can't avoid when traveling and it's money. There is no denying that I paid a pretty penny on my European excursion, but the way I look at spending money on a trip is that you're paying for experiences rather than materialistic things. Think about all of the responsibility you're going to have once you enter the real world and don't have time to travel. Do it now while you're still in school and it's more affordable. Traveling is always going to be expensive, but if you stay in hostels, buy your plane ticket far enough in advance so it isn't ridiculously priced, and set a budget then you won't be burning such a big hole in your wallet.
Now, if you have any desire to travel, do it. You will not regret spending money on an experience that you will never, ever forget. For me it's become the best release before graduation. You might look back at your college years and wish you didn't spend so much on rent, but you'll never wish you hadn't seen a different part of the world.