Shoe complex to business success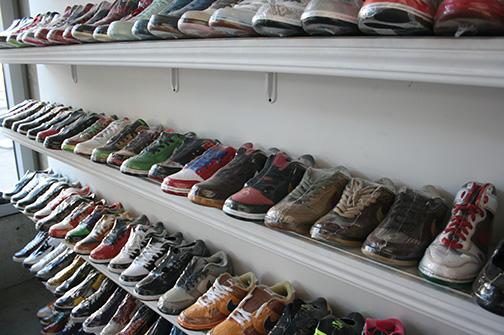 When Dante Rowley was a sophomore in high school, he had no idea his sneaker fetish would eventually lead him to success as a young business owner today. Rowley is currently the owner of Rosewood, a consignment shoe store located in downtown.
When Rowley was a 16-year-old high school student, he began collecting shoes of all shapes and colors. He started to slowly grow a shoe collection that would put some celebrities to shame. Once he reached 365 pairs of shoes, Rowley decided it was time to put his efforts elsewhere.
"I've always been a really big sneaker-head," Rowley said. "I was trying to get a pair for every day of the year."
Rowley, along with a few of his closest friends, worked in different shoe stores, which made accessing products easy. As a sophomore in college at California State University, Fresno, he began buying shoes at a discount and selling them for double the profit. Business was doing so well that Rowley decided to double his odds and open a shoe store. First came the online store in November 2012, then the storefront opened in January 2013.
"I was basically doing an online store and I made enough money to start the store," Rowley said.
Rosewood is currently selling men's, women's and children's shoes, however the majority of profit comes from their male customers. Rowley sees a lot of military personnel and college students come into his store.
"There are also a lot of the SDSU basketball and football players coming into the store," Rowley said.
Rowley believes Rosewood is a direct reflection of his success as a young business owner. The store proves Rowley was able to do something on his own, and it will continue to rise or fall based on the effort he puts in.
Although the heart of the store lies within the soles of the shoes, Rosewood also acts as an art gallery and is a place for some artists to sell their work.
"I've always had a love of fashion and sneakers, so I thought I would offset it and have a gallery and a shoe store at the same time and place, so that they can kind of feed off of each other," Rowley said. "We have art shows here at least once a month."
The majority of the art presented and sold in the store is illustrated by bigger names to help bring in a larger crowd. When Rowley was an undergrad, he focused on art and even interned at the Museum of Contemporary Art in San Diego.
In fact, Rowley began attending San Diego State as a graduate student, hoping to receive his master's degree in Fine Art. However, Rowley didn't end up finishing school because he decided to open the Rosewood store.
Rowley plans to continue selling shoes and expanding his online products. He hopes to open a second store in either Texas or Georgia.
"I just want to open more businesses and create more jobs," Rowley said. I actually have three businesses now, and I'm trying to at least get five by the time I am 31 or so."