Love at SDSU: Love blossoms beyond classrooms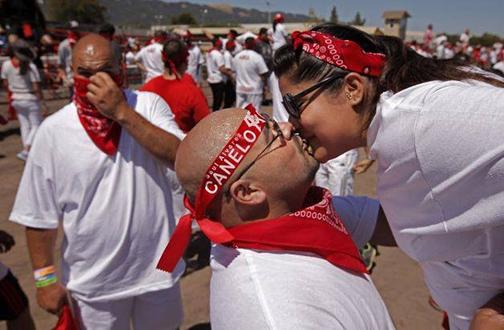 It never happens the same way, or even when its wanted. It is always unexpected and never how one would imagine. For some it happens immediately, and for others it takes time. The mystery and beauty behind it all is what makes every love story magical. However, the best part about this love story is that it blossomed at San Diego State.
Chicano studies and Spanish 2005 graduate Gilberto Martinez and Chicano studies and social work 2007 graduate Brigitte Arelis met in their Chicano studies class in 2003.
Brigitte says she was studious and would show up early to class. She laughed when she said that Gilberto definitely was not. Ironically, this is actually the reason they met.
Gilberto walked into class late and, of course, the only seat left was the one in front by Brigitte. He said that he loved her and knew he wanted to be with her from the first time he saw her.
She had to leave class early that day, so when she coincidentally saw him at a social function later, she asked if there was homework assigned that she might have missed. He told her there wasn't — but there was. Gilberto still jokes that this was his way of making a pass at her, but Brigitte wasn't amused. At least he made an impression, right?
The two hung out, studied together and became friends. But that was it —  just friends. Gilberto asked Brigitte out all the time, and yet, time and time again she refused. They were close, but she said she wasn't ready. Brigitte admitted that she told Gilberto she loved him once before, but she couldn't commit.
Years later, Gilberto found it was time he needed to move on. Brigitte was all he ever wanted, but he couldn't wait forever. On the night that he deleted her phone number, she called him for help. She had accidentally flushed her keys down the toilet and knew he lived nearby. Brigitte, a damsel in distress, allowed Gilberto to finally be her knight shining armor — or something like that. It seemed as though he couldn't shake her.
Gilberto then invited Brigitte to a winter concert where he asked her, for what he didn't know would be the final time, to be his girlfriend. Set off the fireworks — she said yes! By 2006, the two were finally together. They have gone to that winter concert every year since.
Fast-forward to 2014, Brigitte and Gilberto were still madly in love and living together.  They each had dog that they loved as if they were their children. One day, Brigitte's dog went missing.
After five months of feeling helpless, Gilberto received a phone call saying that their dog had been found. He went to go check it out himself without telling Brigitte. Upon arriving, he was overjoyed to find out the pup was theirs. This was four days before he had planned to propose — he already had the ring and all. He then realized, what kind of plan could be better than proposing with the one thing she loved the most?
On Sept. 8, 2014, Gilberto told Brigitte that he was going to make her dinner and tried to keep her distracted from coming home.
He tied the ring to the little dog's collar and held it behind his back when she came. As she walked in, he revealed the surprise.
"I was so confused," Brigitte said excitedly with a laugh. "I didn't know what was going on!"
She was so overwhelmed to see her little loved one again that she forgot to answer the question.
"Gilberto asked me if I was going to answer the question and I didn't even realize I hadn't," Brigitte said. "I said yes, of course!"
The ceremony will be held this September in Valle de Guadalupe, the wine country where they vacationed after he proposed.
Brigitte and Gilberto have quite the history. It was love many years in the making, but lasting nonetheless. They plan to take their engagement photos at SDSU, back where it all began. They are proud to be alumni and represent the school whenever they can. Plus, it's hard to beat a photo with the iconic Hepner Hall.