Coin-Op brings change to typical bar scene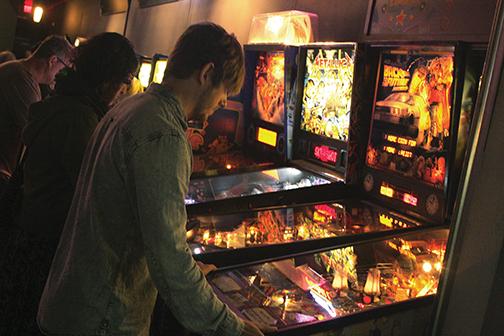 There was a time when kids would ride bikes with quarters weighing down their pockets to beat the snot out of their friends in "Street Fighter II." Endless hours and even more dollars were spent at old-school arcades.
It was all part of the distant decade known as the '80s; when technology was advancing and the fashion choices were questionable at best. But like a phoenix rising from the ashes of neon clothing, a San Diego arcade is making a comeback, and it even serves alcohol.
Coin-Op Game Room is a bar in North Park with some of the most well-known arcade games hugging every inch of wall space.
"We wanted to provide the same kind of product at a nice affordable price but not in an atmosphere that's kind of like a speakeasy, but more high energy, high fun," owner Hassan Mahmood said. "We didn't want to be Dave and Busters styled, but a little more classic. Kind of a little more nostalgic and for different age groups as well."
His idea of fusing a bar with an arcade came from living on the east coast, where they're much more common. Mahmood says drinking and playing arcade games are definitely more personal and social than playing the current generation of video games.
"You can sit down, get a drink and see people screaming at 'NBA Jam,'" Mahmood said. "Nowadays, if you look at gaming, you have a headset on, you're looking at a TV and playing with someone on the other side of the world. Where this is an actual cabinet you can walk up to, throw in a quarter and get your fix for the next 10 minutes if you're beating the game or the next 30 seconds if you're getting beaten up at 'Pac-Man.'"
The available games vary from time to time, but its catalog includes "Contra," "Dig-Dug," "Ms. Pac-Man," "Marvel vs Capcom" and multiple pinball machines. Its most popular titles are "Street Fighter II," "NBA Jam," "Galaga," "Buck Hunter," "Area 51," "Mortal Kombat II" and "The Simpsons Arcade Game."
This library is constantly growing and takes a lot of effort to expand. Mahmood said they spend many hours on Craigslist, Ebay, arcade auctions and expos to buy more machines. Many of these machines are older than 30 years old, so even after buying a game in good condition, some still need to get repaired.
"We go around up and down the coast, up to Bakersfield and further up north," Mahmood said. "We're finding some of the really high-end games that everyone loves. We recently bought 'Paperboy' that's getting fixed up at the moment."
But Coin-Op is also a bar with all the food, liquor and craft beer people would expect. It staffs a minimum of two bartenders at all times to make the wait for a drink manageable.
"At the end of the day, if you take away the arcade aspect, we're providing a really good product at pretty good price," Mahmood said. "That's a reason to come to Coin-op. Our beer list is pretty fantastic. We're offering handcrafted cocktails [and] fresh juices."
If you're the type of student who barely has enough money for drinks and can't even imagine parting with those precious quarters, Coin-Op has a monthly free-play night. Most games on the last Sunday of each month will be free (some of the older ones don't have a mechanism to enable free-play sessions).
Mahmood said there's always something going on at Coin-Op. From flip cup games to pinball and "Street Fighter," tournaments ,there's usually something going on to keep the atmosphere lively and entertaining.
"A lot of people went to arcades when they were younger, so it's kind of the kid in us that comes out," Mahmood said.