Love Library liaisons inform about resources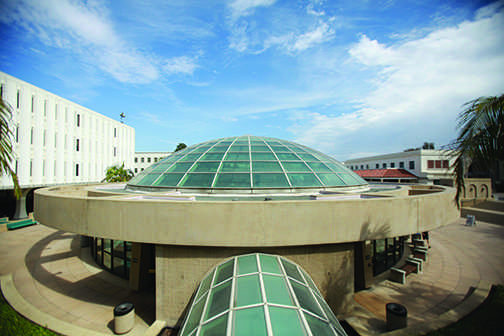 San Diego State's Love Library recently employed two student liaisons to improve communication between the library and students.
The library already offered resources to its students, such as several article databases, a media center where students can check out DVDs and CDs, and tutoring centers. English senior Christian Benavides and journalism sophomore Jessica Santos, hope to inform more students about these services as SDSU's new library liaisons. Through their positions funded by a grant from Wells Fargo, Benavides and Santos will work to inform students about the library's services and act as messengers for the university's students.
"We want to find out what students think of the library — if they have any questions, concerns, any comments — and we want to convey that to those who run the library," Benavides said.
The liaison service began this semester, and has already made serious efforts to represent students and coordinate with the library.
"We have sat on a lot of different committees and a lot of different groups for the library, such as the Library Senate, Friends of the Library, and the Communications committee," Santos said. "In addition, we also help with messaging and how the library actually communicates with students."
Sara Baird, the library director of access services and human resources, said SDSU had been hoping and planning for a program similar to this for some time.
"In looking over prospective grants that were available to us, one of the grants was from Wells Fargo, and our Dean Gale Etschmaier looked at it and suggested to our grant writer, Lynn Hawkes, that the grant goes toward supporting a student library liaison, and sure enough they gave us the money for this program," Baird said.
This is only the beginning of what the library has planned, and once it gets the word out on campus about the liaison program, it will begin setting up booths and tables to further connect with the students and assist them.
If students have questions regarding the library's resources or thoughts on how the library could improve, contact Benavides or Santos via email at liaisons@rohan.sdsu.edu.