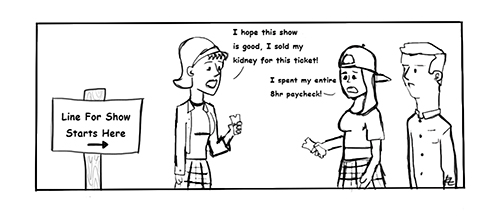 Let's face it, any broke college student who loves music does not want to consistently spend $30-$50 on a show. That could mean food, basic necessities, college books one will never use — the possibilities are endless. It's an abuse to college youth, really.
The good news is several venues in the city cater to this need. These underrated venues and collectives hold shows that are usually $10 or less, often filled with kids screaming to local bands and a lot more fun than big name shows. Think about it this way: a water bottle at big name venues costs almost as much as a show at these locales.
The venues below are distinctive from the bigger names such as House of Blues, Observatory, Valley View Casino, Soma, Epicentre and Sleep Train Amphitheatre. They build community, and each and every one act as a locale for other events and experiences that either cultivate the arts or support social causes.
Concerts are accessible for a cheap buck. By attending these events, one is supporting a greater cause, the San Diego do-it-yourself scene. These shows display that one doesn't need to be rich or vastly talented to have a lot of fun. It encourages creativity and supports a counter culture that is in it for the right reasons, a good time that includes everyone.
"DIY scenes can immerse individuals into new cultures and help them appreciate outside influences. The DIY scene is integral for bands to make a name for them as well as connect with the rest of their scene," Manny Davis said of the local band Harbor.
 Dial Collective
The Dial collective is based in Temecula but has now partnered with The Creator Space to host shows in varying locales around San Diego. With this partnership, the venue is fundraising money for a permanent location through concerts and art gallery shows.
Musicians that have played here include Wild Moth, Alex G, Girlpool and PUP.
Stronghold
This Barrio Logan location is primarily known for bringing the San Diego hardcore-punk shows while also acting as an art studio. This venue gives off the perfect do-it-yourself vibes, making you want to come home and create music of your own.
Musicians that have played here include Big Bad Buffalo, Shady Francos and Comeback Kid.
Legend Records
Right off Garnet Avenue, this venue also acts as a practice studio for several musicians. It opened its doors to host shows a couple months ago, and it has brought in musicians from all around San Diego County. Ironically enough, the information box on some of its Facebook events are labeled "$10 because we are greedy and want all of your money."
Musicians that have played here include DrugXControl, Dangers, The Delmartians, Salad Bar Slytherin, and Isaac and the Chimera.
Che Cafe Collective
Known for its presence since the '80s, the Che has been the home to local and larger artists. Although the collective is currently having legal issues because of its eviction notice, it's still holding shows on occasion at its venue in University of California, San Diego. Che is an acronym for Cheap Healthy Eats, and it acts as a vegan cafe on the side, selling coffee, pancakes, cupcakes, burritos and more. In addition to that, the space holds events ranging from feminist empowerment workshops to know-your-rights workshops.
Musicians that have played here include Bright Eyes, Solids, Green Day, Pity Sex, Andrew Jackson Jihad and KIDS.
Queen Bees
The Queen Bees is located in the center of North Park. What makes this venue so special is that it is very youth-oriented, only holding two 21-and-up events each month. It also participates in the San Diego Music Thing event where big-name artists have come to play. Open seven days a week, Queen Bee's is also a part-time dance studio and club holding classes.
Musicians that have played here include FIDLAR, The Chuffs, The Frights, H Street Band.