Statement in support of Divestment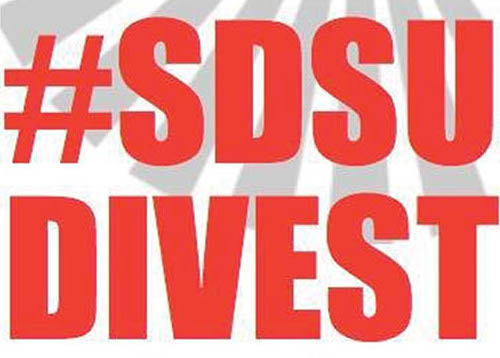 This statement was submitted by Osama Alkhawaja on behalf of student organizations in support of the Divestment Resolution.
There is a genocide occurring right now. Here, today, in our lifetime. As students we are constantly engaged with the histories of our cultures, peoples, and nations, forever learning about the atrocities of our past and wondering why we failed to stop them from happening. If only we had spoken up against the violence. If only it had been us, we like to think we would have made different choices and now we have a chance to prove it.
Palestinians have called on the international community to divest from companies complicit in Israel's violent, illegal occupation of Palestine. This call to action was made even more urgent this past summer when Israel launched a devastating campaign that left students at SDSU outraged at our continued complicity in this massacre. More than 1,600 civilians were killed in an assault that Amnesty International described as a force of, "callous indifference." Not only did Israel destroy schools that would deny nearly 600,000 Palestinian children in Gaza a proper education, Israel murdered more than 500 children and wounded another 3,000. This is merely the most recent episode in Israel's continuous assault on Palestine.
Divestment is a step in the right direction. It's a peaceful, socially responsible way of showing solidarity with the oppressed people of Palestine. We are not divesting from Israel, we are divesting from American corporations complicit in the Occupation. Divestment by no means targets a certain faith or nationality, it simply calls on the principles of equality and liberty to be granted to all people living in Israel and Palestine. This is why we refuse to allow Israel to continue to operate with complete impunity, and we reject its attempts to monopolize the Jewish voice that is often very critical of its policies. Furthermore, it's severely problematic to place the discomfort of those who are having their political ideology challenged above Palestinian students whose families face systematic humiliation, degradation, and injustice. Any divisiveness among students comes between those who stand up for justice and those who do not.
The Campanile Foundation website states that its "endowments, [provide] a strong underpinning for the future and will assist SDSU in achieving its vision… one that is engaged locally for global impact." However, through its investments in the SSGA Russell 3000 index, SDSU and the Campanile Foundation contradict these values by profiting from the following companies complicit in the Israeli Occupation of Palestine through the killing of Palestinian citizens and destruction of civilian infrastructure:
Boeing supplies F15 Eagles, A64 Apache attack helicopters, Joint Direct Attack Munitions and guided air-to-surface weapons that the Israeli military uses in in the Gaza Strip.
Caterpillar provides militarized bulldozers used to illegally destroy Palestinian homes and refugee camps, expand illegal settlements, and construct the Apartheid Wall and checkpoints.
General Dynamics provides Israel with weapons systems and munitions, including artillery shells, bombs, and gun systems for F16 fighter jets.
General Electric produces and provides the engines of A64 Apache Helicopters and Black Hawk Helicopters used to fire missiles at the Gaza.
Hewlett-Packard develops and maintains products such as biometric systems utilized at illegal military checkpoints restricting Palestinians' freedom of movement in the West Bank.
L-3 Communications provides magnetometric scanners used in the illegal military checkpoints.
Lockheed Martin supplies F16 fighter-bombers, Hellfire missile systems and Merkava MK4 tanks deployed in attacks on the Gaza Strip.
Motorola Solutions provides the communication and fencing technology in the Occupied Territories used to enforce segregation and serve illegal settlements.
Northrop Grumman supplies missile systems, gunships, and services for F16 fighter jets.
Raytheon provides missile systems, bombs, munitions, and services for F15 and F16 fighter jets, used in attacks on the Gaza Strip.
United Technologies manufactures engines used in F15 and F16 fighter jets and Black Hawk helicopters.
This statement and divestment are endorsed by: Arab Student Association, AChA de SDSU, Concerned Students, AOD Womyn's Outreach Association, International Socialist Organization, Jewish Voice for Peace, MEChA de SDSU, Muslim Student Association, Students for Justice in Palestine, Queer People of Color Collective, Queer Student Union.
Read the statement in opposition to divestment.