Campus grows with new complex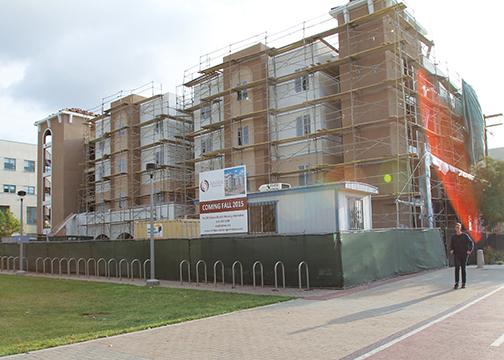 Whether commuting or walking from an on-campus housing unit, it's hard to dodge all the construction going on around San Diego State. Luckily, this means the campus is growing and these new changes will directly benefit students, such as new housing options around campus.
On the corner of Campanile Drive and Hardy Avenue, a new apartment complex, Campus Center Apartments, is currently under construction. The name is extremely fitting considering the site sits directly in one of the busiest areas on campus.
Campus Center Apartments is a family-operated business with direct ties to SDSU. Property Manager and SDSU alumna Sundee Vance said plans to build the new site have been underway for more than a year.
"We're very excited to be where we are," Vance said. "We wanted to be in the center of campus and help our residents succeed in their college experience."
The apartment campus will be four stories tall and will have 17 apartments available for leasing. There will be 65 individual bedrooms and it will hold a maximum of 83 residents.
Campus Center Apartments chose to construct a housing complex near campus in order to encourage a community living experience that benefits students. They are also interested in better serving the SDSU student population beginning with comfortable, affordable and convenient housing.
"I think because we are a smaller building we hope to build a really strong community environment for our residents," Vance said. "We also want to support their educational experience."
As far as special amenities, Campus Center Apartments will be offering a community room on the first floor of the building to encourage community events and big gatherings. The second, third and fourth floors of the building will each have patio areas with a barbeque pit. The idea is for students to use these areas for small community affairs and even places to study. The addition of barbeque pits is something most complexes in the area do not have.
Anthropology senior Alyssa del Rosario is from San Diego and commutes to campus. She said there's not enough affordable student housing around campus.
"I thought about living on campus my freshman year, but it was too expensive," del Rosario said. "I decided it was cheaper to stay at home."
However, new student housing areas on campus opens the door for cheaper options. Del Rosario believes that if more affordable options were available, she would consider moving closer to campus because it's more convenient.
Campus Center Apartments are not currently affiliated with SDSU, but they're not opposed to a housing partnership in the future. The complex is expected to open by fall 2015 and is currently taking residents interested in their units. Above all else, the Campus Center team is excited to begin the fall semester with new residents.