Students commute to save money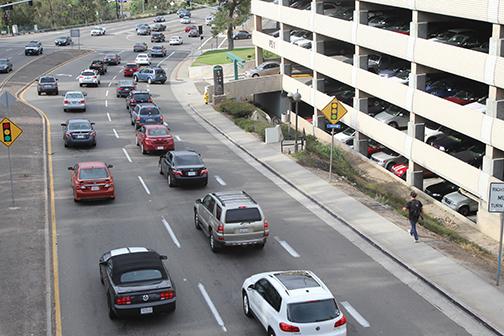 San Diego State students work hard and look forward to getting home and embracing a warm bed at the end of a long day. For those who live on campus, it probably takes less than 20 minutes to get home, put on pajamas, get an ice-cold beverage and pull up Netflix. Dorm residents also have the advantage of accessibility to on-campus events and facilities. However, 70 percent of students at SDSU are commuters, meaning that they don't live on campus and travel to school on a daily basis.
Journalism senior Camelle Sison has lived off-campus since starting as a freshman. Sison felt that it was not necessary to live on campus, as she is originally from San Diego.
"It only made sense to save money and live at home with my parents," Sison said.
However, she feels she may have missed out on some opportunities by living off-campus.
"I think it would make a big difference living on campus," Sison said. "You meet so much more people just because you live on campus. For example, your roommates. You end up getting to meet their friends and friends of friends, and so on."
Her commute is about 30 minutes. Sometimes, she said, she feels left out of campus events because of where she lives.
"I couldn't attend some events because of the simple fact that I just would be lazy to drive back and forth from home to school," Sison said. "If I lived on campus, I wouldn't have to worry about that."
Given the option, Sison would prefer to live on campus.
"I have class until 10 p.m. sometimes, and during my breaks I would love to drive home and nap, but that would be a waste of gas and time," She said.
She also believes that living on campus would make her more independent, and that most importantly, she would be able to wake up 20 minutes before class and still be on time.
Communications sophomore and San Diego native Jordan Munro-Rankin also commutes to campus. She said that she wanted to live on campus, but didn't think the price would be justified.
"It makes more sense to live with my parents because it's for free and I have my own room," Munro-Rankin said. "If I lived here, I would have to pay $400 or more just to share a room."
Student Life and Leadership has a Commuter Resource Center for students. According to its website, "The Commuter Resource Center is a home base for students who commute to campus. This commuter-friendly space is available for students to eat, take a break between classes, relax, and make new friends."
Munro-Rankin was part of Casa Azteca in her first year, an organization for commuter students, and participated in events held in the commuter center.
"We used to study there all the time, and I had a mentor I that I met twice a week," Munro-Rankin said.