Aztecs to face resurgent Lobos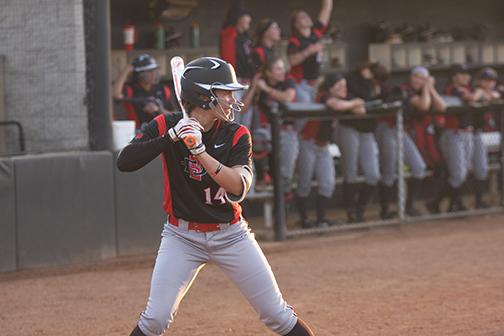 After winning two out of three games in their high-scoring series against Colorado State University, San Diego State softball (30-17, 13-5 Mountain West) is looking to take care of business at home against the University of New Mexico Lobos (24-21, 8-7 MW) this weekend.
In their series at Fort Collins, the Aztecs scored 26 runs in three games. On Saturday alone, the two teams combined for 31 runs through the course of a double-header.
While it is possible that SDSU will be able to rely on the long ball again to lead its high-powered offense this weekend, head coach Kathy Van Wyk doesn't think it's very likely.
"I don't anticipate it being as high scoring (this series.) A lot of home runs were hit because of the altitude," Van Wyk said. "But you never know. In this conference it's not uncommon."
There's also a chance that the Lobos team could score a lot of runs themselves.
"New Mexico swings the bat well," Van Wyk said. "They're always good hitters."
The Lobos pitching staff has been stronger this year too.
"Pitching has always been their weakest point, but we'll see," Van Wyk said. "I know they have a couple more pitchers this year than they've had (in the past)."
This showed in the Lobos' most recent series two weeks against Colorado State when New Mexico's pitchers won two games and only gave up nine runs through all three games.
New Mexico's combination of strong hitters and improved pitching staff is why Van Wyk expects them to be tougher than in years past.
"They usually were in the bottom half of the conference and they are not any longer," she said. "They are in the middle of the conference and I would expect them to give us three great games."
New Mexico will also have added rest and motivation as they haven't playing since losing to in-state rival New Mexico State University last Tuesday.
Still, the Aztecs are more focused on improving themselves than they are on worrying about opponents.
"(In practice) we're just working on things we looked at this past week and need work on," Van Wyk said.
This attitude of focusing on her team also applies to Van Wyk's approach to winning the tight race in the competitive conference.
"We have two more series left and bottom line is we got to take care of our own business," she said. "We need to win games. We can't afford losses."
The Aztecs are currently one game behind California State University, Fresno (33-14, 14-4 MW) and are in a virtual tie with San Jose State University (31-15, 11-4 MW) for second place in the conference.
The Lobos are in fourth in the MW standings.
But as much as the Aztecs want to win the conference, the most important thing is performing well on the field.
"For the most part we need to stay focused on our job, which is go out there and play hard," she said.
Expect the Aztecs to play hard and compete when they take on the improved New Mexico Lobos at home Friday night, Saturday night and Sunday afternoon.