Senior Farewell: David Dixon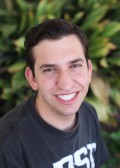 Well, this is it. I have been at San Diego State for five years, and I am officially going to graduate from college. You know what I did during all that time? Rocked out every night and drank at least two beers a day. Just kidding. I tried to stay on top of schoolwork and wrote as often as possible for publications such as The Daily Aztec.
There is no way I would have been an entertainment writer for SDSU's school paper if it was not for Ruthie Kelly, a former editor in chief. After telling her about my passion for film and theatre criticism, she made sure to let the former Entertainment Editor, Maggie Pehanick, know that I was determined to be a part of her writing crew. I am grateful for her encouragement and compassion.
I need to acknowledge two former entertainment editors who always had my back. John Anderson was open to ideas I brought up for film and theatre articles, and Kevin Smead, who was also very supportive of my writing. Their endless assistance, advice and training were things that always stuck with me when I was the Entertainment Editor from summer 2013-summer 2014.
After a year I knew I had to pass the torch to a new editor. Luckily, Nick Knott took over the section and he has done a great job focusing on talented SDSU students, staff and alumni who deserve recognition for their art.
I will be sad to leave The Daily Aztec, because I have had so many wonderful memories working for the newspaper. The experiences at the office forced me to become a more responsible and productive individual and my love of theatre, film, television and music was only enhanced by my work and conversations with other writers. It is due to the depth of TDA that I have been writing for San Diego Story, San Diego Community News Network and recently had my first guest review published at the San Diego Reader.
Thank you to the many people from The Daily Aztec who have been a part of my life over the years. I would like to say goodbye with some words from the wise Abraham Lincoln. "Be excellent to each other. And… PARTY, ON DUDES (and dudettes!)"