SDSU football's Trey Lomax uses baseball to help him on gridiron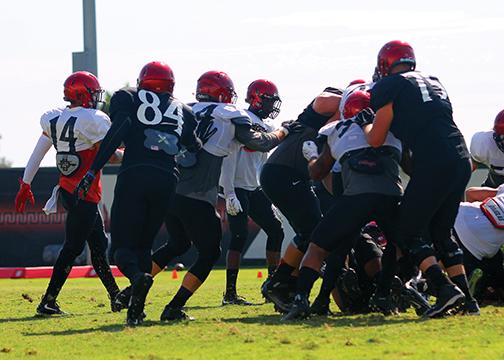 Imagine being a baseball outfielder. Now imagine a baseball being thrown at 94 miles per hour, the batter hitting the ball less than a second after it was pitched and the outfielder having the reflexes to hear the ball, see it, run to it and catch it with ease.
That describes Trey Lomax, a redshirt sophomore football player at San Diego State who covers more ground than anyone in the outfield.
Except football is his primary sport now. The former baseball outfielder and pitcher is projected to start at one of the Warrior safety spots for SDSU this season, after a breakout year in which he started all but one game.
But it was baseball that also helped Lomax become the fast, smart and hard-hitting safety that he is today.
"My first step is pretty quick and reading the ball off the bat is a lot similar to being a deep safety and seeing the ball out of (the quarterback's) hand and knowing how to track it," Lomax said.
Reaction, timing and hand-eye coordination are key elements in football. They might not be as important as they are in baseball, but for a safety covering a portion of the field, every step helps if he has to run 40 yards in one direction.
Lomax's baseball background helps in another way. He has become a better all-around athlete, which according to SDSU safeties coach Danny Gonzales, is a good thing.
"Sometimes when you do one thing you become a robot," Gonzales said.
A common phrase around the gridiron is "football instincts," which coaches use to describe players that have an otherworldly intelligence on the field, like Lomax.
"He does have some natural stuff where he gets a feel for where plays should break and where things are going to go," Gonzales said. "It's stuff you can't teach."
Lomax spent the entire summer watching game film of himself and his opponents so he could learn how to get better. He is a perfectionist, Gonzales said.
Not only do safeties have to be able to read the field, play pass protection and be solid tacklers, but they have to be confident that they can patrol the field. Lomax has that confidence, but it doesn't always lead to friendly exchanges.
"At times we butt heads, but in a good way. Like I said, he's a smart football player, he thinks he's right all the time, sometimes we disagree," Gonzales said. "Those are the kind of guys you want in our room."
Fellow teammates are big fans of the 5-foot-11, 190-pound Mira Mesa High graduate.
"Trey? Oh man, he's my boy!" junior safety Malik Smith said.
Lomax recorded 63 tackles last year in 12 games with three tackles for a loss and two fumble recoveries.
This year, Lomax is visibly excited for what the secondary can accomplish. It helps that all five players from last year's No. 14 ranked pass defense in the country are back.
They're still working on little things, such as tiny pre-snap adjustments that could make a big difference.
"One step to the right could help us make a play," Lomax said.
Unlike many football players and coaches who are loud, intense and visibly passionate, Lomax is the calm, stealthy, focused player.
And the reason he's calm? Again, it's his confidence.
"I have a lot of confidence in our defense and our team and everything that we're doing," Lomax said.  "There's no need to panic or tense up, because that's when you make mistakes."
With such a violent sport like football, that calmness isn't always a good thing.
"Growing up, my personality's always been laid back, which has been a bad thing at times because I can get lazy," he said.
Gonzales, along with head coach Rocky Long, have been concerned all along that the safeties and the rest of the secondary are so good that they might slack off in practice.
Gonzales, himself, is the calmest coach on the practice field, unlike some coaches who scream after every play.
The challenge this year, along with improving upon last year's success, is keeping the safeties, Lomax included, from losing focus on the Aztecs' ultimate goal.
A Mountain West Championship.