SDSU ranks nationally for LGBT friendliness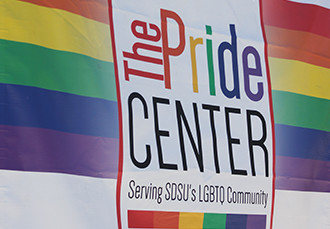 San Diego State was ranked among the top 25 LGBT-friendly universities in the nation for the sixth year in a row.
The ranking is based on the Campus Pride Index, a tool that compares LGBT-friendly policies, programs and practices on college campuses.
SDSU's LGBT studies major is the second of its kind in the United States and first in the California State University system. SDSU also offers a post-graduate certificate program. 
LGBT studies academic adviser Esther Rothblum said the university earned a top spot by being academically and socially inclusive.
"Part of what they look at for this ranking is student groups and safety issues," she said.
SafeZones@SDSU is one of many campus programs designed to serve LGBT students. Co-chair of the organization, Mary Kasik, said the ranking demonstrates SDSU's commitment to diversity.
"I think it really shows how SDSU is being progressive when it comes to LGBT rights, and it makes me really proud to be at SDSU," Kasik said.
SafeZones@SDSU aims to create a welcoming atmosphere for all lesbian, gay, bisexual, transgender, queer, questioning, intersex and ally members of the SDSU community.
In addition to organizing social events and internship opportunities, the program offers free training to SDSU students and faculty about how to support the LGBT community.
SafeZones@SDSU co-chair Professor Susan Cayleff credits a large part of their success to those trainings.
Public safety, health services and Associated Students are a few of the organizations on-campus departments that have undergone training. Hundreds of students and faculty have also participated.
"I think anything that succeeds, succeeds because there is a number of people working towards the same goal," Cayleff said. "(SafeZones@SDSU is) one of the reasons SDSU has this wonderful ranking, but we're part of a vibrant network."
Other student organizations on campus include the Queer Student Union, Gamma Rho Lambda, Delta Lambda Phi, LGBT Aztec Alumni, OUTreach, Trans* Action and Advocacy Student Coalition (T.A.A.S.C. Force) and Queer People of Color (QPOC).
These organizations and programs raise awareness about LGBT identities and educate people about the discrimination that LGBT people face.
But Cayleff says there's always work to be done. She hopes to soon tackle issues such as bullying and violence against LGBT students.
"We're all very proud of the top-25 ranking, but we're always working towards improvement," she said. "I think what the LGBT community has the opportunity for now is to look at larger issues of violence."
Rothblum agrees that more can be done at SDSU, particularly with a focus on transgender issues.
"A big issue is bathrooms, gender-neutral bathrooms," Rothblum said. "So I think the transgender issue is a hot one right now."
Tell us what you think about gender-neutral bathrooms on campus by responding to our online poll.
[polldaddy poll=9059895]