Taylor Swift, congratulations on winning Video of the Year for "Bad Blood" at this year's MTV Video Music Awards. I'm happy for you, but I got to interrupt to say that Nicki Minaj and Beyonce had the best music video of 2015.
Somehow the music video of "Feeling Myself," released a day after the "Bad Blood" video, didn't make the cut for the VMA nominations. Let's not forget that Nicki and Bey stunted the power of the #squad with incredible cool as much as the guns-heavy army of "Bad Blood." Every moment was an ideal aspiration of a beautiful friendship, or at least Oscar-worthy scenes to recreate with your BFF.
Here are some key moments from the video to recreate with the Beyonce to your Nicki so you know it's real.
When you guys meet up to start your day
When you go out to lunch after back-to-back classes
When you let your Nicki finish your story from the weekend
When you guys are about to take a photo for Instagram
When you parked your car at the night's hangout spot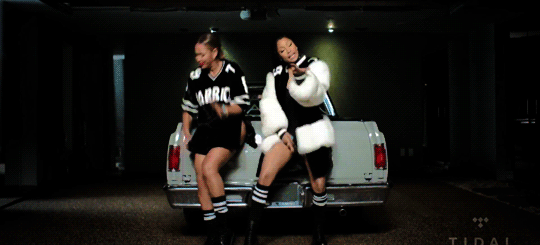 When someone asks what you two are doing while you're recreating these scenes