SDSU women's soccer seeks win in 'electric' crosstown rivalry against USD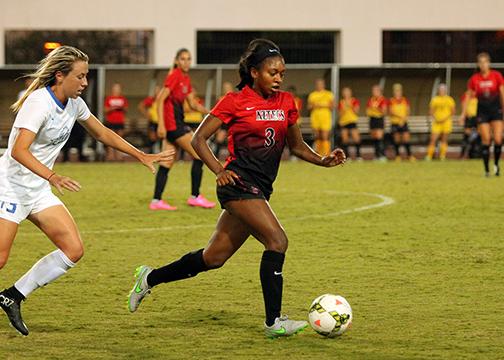 This Thursday night, the bleachers of the San Diego State Sports Deck will be filled with a clusters of red and black, as well as blue and white, as SDSU women's soccer squares off against its cross-town rival University of San Diego.
Unlike football, the SDSU and USD women's soccer teams have a rivalry that has heated up the past few years.
The Toreros (1-4-1)  got the best of the Aztecs (3-2-0)  last year in a 2-0 victory at USD, and in 2013 the Aztecs pulled a 3-0 shutout at home.
SDSU head coach Mike Friesen said the atmosphere of the rivalry has ramped up.
"It can get pretty intense," Friesen said. "One of the things we've learned over the last few years is it has a tournament-type feel to the game. The atmosphere will be electric."
Aztec senior goalkeeper Melanie Vaughn agreed that playing the Toreros is an intense experience.
"It's really crazy. We have a lot of fans from their school and our school, and it's always a fight until the end type of deal, no matter what the score is," Vaughn said.
USD has had a rocky start to its season.  However, it's most likely a product of a difficult schedule up to this point. Three of the Toreros' four losses have come against UCLA, USC and University of Michigan.
Friesen doesn't doubt USD's ability to win games despite its record.
"They're hard working, they're physical, and they're organized defensively," Friesen said. "Ada (Greenwood) does a great job coaching them. We'll have to make sure we match their intensity and physicality."
Vaughn spoke highly about USD's ability to play the corners, and how their set pieces are difficult to defend.
"We're going to have to be a little more disciplined on the corner kicks and set pieces that are going against us," Vaughn said. "As long as we remain disciplined we'll be okay."
SDSU will then travel on Sunday to face UC Davis, a team the Aztecs defeated at home last year 2-0.
UC Davis currently holds an impressive 5-2-0 record, picking up big wins against Eastern Washington University and North Dakota State.
Friesen is looking forward to a better game compared to the last time the Aztecs and Aggies met.
"For us, it was a pretty slow, lethargic game. I think it will be a better game this time," Friesen said. "I suspect they will be a possession-type team. They'll try and counter on us, they'll be good and organized defensively. We're going to have to be good on the away field."
The Aggies are led by top their top scorer, junior defender Rachel Smith. Smith has five goals, 10 points and 31 shots in the first eight games of the season.
Friesen's confidence in his team is high heading into these final non-conference games. He and Vaughn stressed the importance of winning these final two games as Mountain West play looms.
"This is the last time we can get all of our kinks out before it's the real deal," Vaughn said.