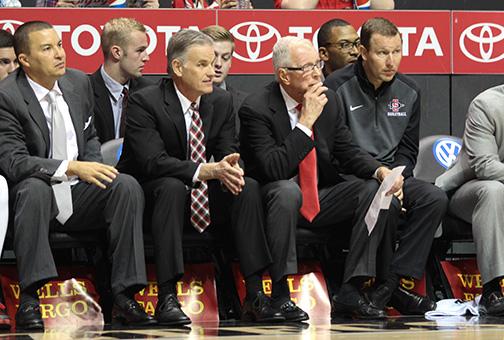 Early Tuesday morning, CBS Sports sent San Diego State fans into a frenzy when it reported SDSU men's basketball was being investigated by the NCAA for improper benefits given to prospective student-athletes.
Gary Parrish, who first reported the news, told San Diego's The Mighty 1090 AM the potential investigation is focused on a current Aztecs assistant coach who may have given impermissible benefits to prospects during the recruiting process.
"It's in the early stages, but it's a very real thing," he said.
Impermissible benefits are gifts or arrangements provided to student-athletes or prospects, their friends or family members that aren't available to the public — such as cash or loans in any amount or free or reduced-cost services.
Parrish cited multiple anonymous sources in his report.
But later Tuesday afternoon, the SDSU athletic department issued a statement saying it hadn't been contacted by the NCAA about an investigation.
"Earlier today, San Diego State reached out to representatives of the NCAA's Enforcement staff following a media report regarding allegations involving the school's men's basketball program. Members of the NCAA staff confirmed for the University that they have not commenced a formal investigation," the statement read.
"Prior to the media report today, the NCAA had not contacted any member of the University regarding an investigation into the program. San Diego State takes all potential NCAA issues seriously and will cooperate fully with the NCAA."
Which leads to the question: Are the Aztecs really being investigated?
The Daily Aztec reached out to the NCAA to confirm an investigation into SDSU. The NCAA directed The Daily Aztec to a "media request template" that wouldn't guarantee a timely response.
An NCAA spokeswoman said in an email to The Daily Aztec that the organization can't comment on current, pending or potential investigations.
Multiple phone calls to AAU basketball coaches who coached current SDSU players, as well as several high school coaches where those same players went, were not returned. In addition, multiple attempts to reach agents of former Aztec basketball players were unsuccessful.
During the radio interview, Parrish said he had two sources, with only one directly naming the assistant coach who's allegedly the center of the potential investigation.
He said he waited until Tuesday to publish the report because he wanted to wait until he had two disconnected sources tell him the same story, but he's been aware of the situation for several months.
An investigation can start multiple ways, most of them involving the NCAA receiving a tip about a potential violation. The NCAA then investigates some of the tips to see if they're legitimate before moving from a preliminary investigation to a formal investigation.
If SDSU is found to have committed violations, it could be subject to "Level 1" penalties, the NCAA's most severe form of punishment.
Whether or not there was any wrongdoing, Parrish's report and the athletic department's counter statement come in the middle of a critical recruiting period for SDSU.
The Aztecs have as many as two scholarships available for the 2016-17 season. They recently got a commitment from four-star power forward Jalen McDaniels, who hails from the Seattle area.
SDSU is heavily favored to land 2016 recruit Michael Cage Jr., a 6-foot-9 power forward from Mater Dei High in Santa Ana. Cage Jr. took his official visit to the university during Labor Day Weekend.
The Aztecs are also still in the running for 2016 power forward T.J. Leaf from nearby Foothills Christian in El Cajon. SDSU coaches had an in-home visit with Leaf on Monday, according to 247sports.com.
This wouldn't be the first time a team coached by current SDSU head coach Steve Fisher would be the subject of an NCAA investigation.
Fisher was fired as head coach of University of Michigan in 1997 after a scandal stemming from alleged improper benefits given to student-athletes by a booster. That resulted in Michigan vacating its two Final Four appearances in 1992 and 1993 when "The Fab Five" played for the Wolverines.