SDSU event to unveil campus rock 'n' roll mural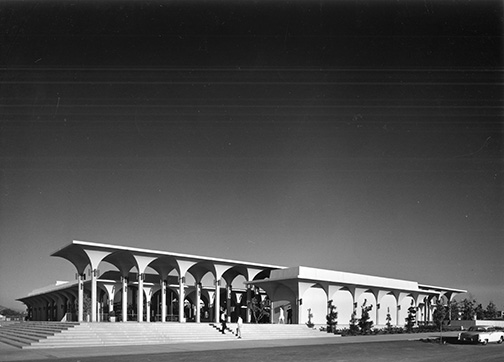 Live music has been the soundtrack of San Diego State for more than half a century. At 3:30 p.m. on Thursday, Oct. 29, students, staff and alumni will come together on the third floor of Love Library for the event Unveiling SDSU's Rock 'n' Roll History to celebrate the university's rich musical and artistic identity.
The program includes a mural unveiling, a book release and a live musical performance by Jack Tempchin. It's free and open to the public.
SDSU has been an epicenter for live performances since the 1930s. Ella Fitzgerald, Grateful Dead and Carlos Santana are only a few names in the diverse list of musicians who have made their way onto the university's grounds.
In 1976, a group of SDSU students painted a mural to honor just that. Fittingly, it was located in one of the university's hidden treasures, The Backdoor. The small venue was home to classic acts such as Patti Smith and The Ramones. Decades of students passed by the vivacious work of art, unaware that it had become a cultural artifact of the university.
The 9-feet-by-14-feet painting includes indigenous Aztec warriors posing as members of renowned rock band Kiss with marijuana leaf T-shirts and platform shoes.
With mention of drugs and androgynous attire, the mural seems to be all rock 'n' roll fun. However, behind these lighthearted efforts are also serious matters that surround the painting.
Four years ago, the building where the mural was located was torn down. Anthropology professor and campus historian Seth Mallios stepped in and became a pivotal factor in saving the painting before the demolition. He led the project to raise money and eventually peel the mural off of the wall for storage.
Mallios' passion for music at SDSU did not stop there. Mallios and interim director of SDSU Collections Jaime Lennox partnered to write a five-volume set on the history of live music on campus. The 1500-page anthology contains concert photos, ticket stubs, stories, reviews and more.
"SDSU has hosted over 3,000 concerts and has proven essential to San Diego's live music scene in all genres —­ the importance of this cannot be understated," Lennox said.
With only 300 copies in print, this limited edition book will be sold exclusively at the event. Lennox and Mallios will be signing books at the end of the program.
The ceremony will close with a live musical performance from alumnus Jack Tempchin. He went on from his days playing music at SDSU to become a famed songwriter, best known for co-writing hits for The Eagles such as "Already Gone," "Somebody," and "The Girl From Yesterday."
Tempchin will be performing "Already Gone" at the event.
"What I'm really hoping for is that everyone can celebrate what is one of the most unique things about this campus, and that is all the amazing music we've had here," Mallios said. "This is one of the things that makes San Diego State so special: great live music, just about every week."