SDSU Student Life & Leadership director fosters student leadership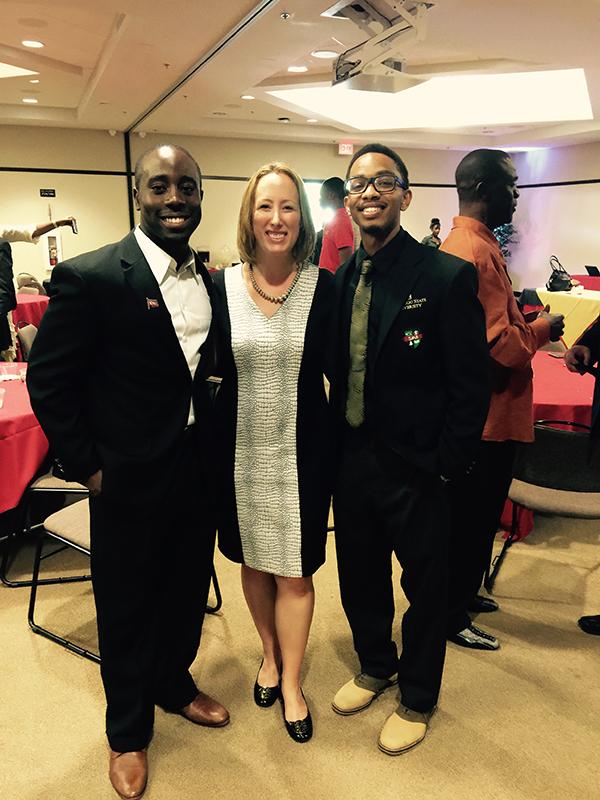 Robyn Adams can be found in her red-and-black Aztec gear accompanied by a smile on her face every Friday on campus. As a beloved mentor to students, mother of twins and a passionate community service advocate, the associate director of Student Life and Leadership has plenty of reasons to smile about.
Adams helps oversee various on-campus community and leadership programs offered in the Student Life and Leadership Center in addition to supervising a professional staff, graduate students and about 150 student employees.
She said her favorite part of her work, though, is the daily interaction she has with students and getting to know each one of them.
"On Thanksgiving, I probably sent out 20 personalized emails to students just saying, 'happy Thanksgiving, happy holidays and good luck with finals!'" Adams said. "My relationships with my students don't just last a week or a semester. I truly care about them and that doesn't stop once they graduate."
Kinesiology senior Brian Levett has known Adams since his freshman year when his mother still took care of most things for him. He still recollects the time she told him call in with his own scholarship program questions rather than his mother doing it for him.
"I'm forever grateful for her pushing me," Levett said. "She really helped me mature as a student and as a leader. She is just the ultimate leader, the ultimate role model that I've had on this campus since I've been here and I can just thank her so much for everything she's done for me."
Adams grew up under the sunny skies of San Diego and eventually decided to study criminal justice during her time as an undergrad at San Diego State. However, after an unfulfilling internship with the District Attorney's office in downtown San Diego, she realized a career in law wasn't for her.
For a change of scenery, she moved to Rochester, Minnesota where the snowy winters sometimes last into June. She went on to work for Mayo Clinic Care contributing to building websites and later Walt Disney Company.
"I started out answering emails that came into their websites, such as ABCNews.com, Disney.com and NASCAR Online," she said. "I learned so much about yellow football lines on the TV and what the pink ribbon on Eeyore's tail means."
Adams said it was a terrific first out-of-college working experience and she naturally became a bigger fan of Disney after working for the company.
"After a lot of soul-searching and thinking about my values, I realized one of the happiest times of my life was when I was at SDSU," Adams said. "Being involved with student engagement and success programs excited me. So, I got my master's degree and returned to San Diego."
Actively involved on campus, Adams enjoys programs such as the Aztec Core Leadership retreat, where up to 50 students are taken to Julian, California or another destination surrounded by mountains. The three-day, off-campus leadership conference is free and open to any SDSU student interested in developing their leadership skills.
Adams also initiated Midnight Study Break, which provides students breakfast served by campus staff and faculty, study tips, school supplies and a string of raffles and contests during final week. Students line up and wrap around Montezuma Hall for the free Aztec Nights event.
"We started out on a small scale in the old Montezuma Hall, we expected to accommodate for roughly 500 students," she said. "Every year since, the event has grown into an SDSU tradition on campus."
Adams said it's important for staff and faculty to show support to students during finals week.
"We've been there and understand the pressure," she said.
While still a student at the university, Adams was an SDSU Ambassador and a member of the Kappa Delta sorority.
"Being an SDSU Ambassador was my favorite experience without a doubt. Working new student orientation and meeting new Aztecs and their families, giving campus tours and learning unique facts about the university, and even today being involved with the Ambassador Alumni group," she said. "I never once fell while walking backwards. Back then, though, we didn't have headphones, so for large groups we had to yell."
Community service is another important aspect to Adams' life as she considers it highly valuable work. This semester, she is looking forward to the Aztec Unity Project where students and SDSU organizations pair up for volunteer work at different sites such as the Special Olympics.
Adams said she has been living out many of her life dreams at SDSU and continually encourages her students to take advantage of their time as a student on the campus she considers her second home.
"Fill up your calendar go to everything that you can — go to workshops, go to speakers and go to clubs you know nothing about (and) meet new people," she said. "The relationships you build during your college years can last you forever."