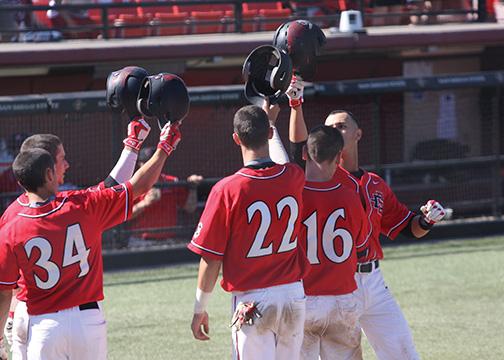 With the San Diego State baseball team coming off a successful 2015 campaign in which it captured a third consecutive Mountain West title and an NCAA Regional berth, there are many different storylines going into the 2016 season.
Continuing previous success
While last season ended abruptly at the hands of USC in the NCAA Regionals, the Aztecs still saw a lot of success out of their ballclub.
"As a coaching staff, we look at it that we have to outwork everybody and that's what we try to do everyday," head coach Mark Martinez said.
In addition to being MW champions, they also captured their second consecutive 40-win season for the first time since the 1990-91 campaigns.
Out with the old
The Aztecs will be without their two best starting pitchers from last year, as well as two of their best hitters.
After pitcher Bubby Derby was drafted and signed with the Oakland A's organization and pitcher Mark Seyler followed suit with the New York Yankees, SDSU is going to be turning to some new players to rely on for the win every Friday, Saturday and Sunday.
"You're replacing them with guys that have pitched in big moments, but they haven't been in primetime week-in and week-out," Martinez said.
On the offensive side, catcher and home-run leader Seby Zavala and third baseman Ty France, now with the Chicago White Sox and San Diego Padres respectively, have left holes at their positions as well.
However, this certainly doesn't mean that all is lost for the Aztecs on those fronts.
In with the new
While not necessarily new, the SDSU squad has many returning players that are going to be asked to either step up into the spotlight or step into a different role than last season.
Those returning veterans are joined by some new faces who are expected to contribute immediately.
One such new player is freshman infielder Jordan Verdon, who is a possible replacement for France at third base.
"He's a left-handed bat, he can sit in the middle of our lineup, drive in a lot of runs, play first or third base," Martinez said.
"He's a newcomer we're going to hang a pretty heavy load on."
There are many key players returning as well.
Pitchers like junior Marcus Reyes, junior Brett Seeburger and redshirt-junior Cody Thompson are going to be there to establish themselves as big-time competitors and examples for the younger players.
"We have a great core group of guys that have played on tournament championship (teams) the last three years, so there's guys that are battle-tested," Martinez said. "It's nice to have some veteran leadership, (but) they're going to be asked to move into the limelight."
On the defensive side, sophomore All-American outfielder Chase Calabuig is going to lead he outfield and man center field.
Last season's closer, redshirt-junior CJ Saylor, is returning to his true position behind home plate.
Coach Martinez inks a five-year contract
Jim Sterk, SDSU's director of athletics, announced this January that Martinez has signed a new contract set to keep him with the program for another five years.
"I'm just honored and humbled for the opportunity, I'm very fortunate and lucky that (previous coach Tony Gwynn) brought me here to help get the program going the right direction," Martinez said.
"Having the opportunity to be the head coach is very humbling for me."
Martinez took over as head coach for the late Gwynn during the summer of 2014.
The season opens play at Tony Gwynn Stadium on Feb. 19, when the Aztecs take on the University of Oregon, with MW play beginning March 4 against Fresno State.