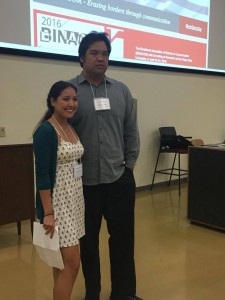 Cada dos años la Asociación Binacional de Escuelas de Comunicación lleva a acabo su tradicional concurso de ensayos en el que participan estudiantes de ambos lados de la frontera. El tema de este año fue la comunicación digital: transformaciones, innovaciones y nuevas direcciones.
Los ganadores de este concurso fueron dos estudiantes de la San Diego State University (SDSU): Janelle L'Hereux  y Brian del Carmen. Ambos tuvieron la oportunidad de leer sus ensayos durante el encuentro y recibieron un reconocimiento y un premio monetario.
Los ganadores
Janelle L'Hereux cursa su segundo año en la SDSU como estudiante de periodismo. Desde el momento en que leyó la convocatoria para el concurso le pareció muy interesante el tema y por eso decidió participar, pero confesó que jamás imaginó que ganaría. Su trabajo se enfocó en el impacto que tiene la comunicación digital en la sociedad. Asímismo L'Hereux explicó que aunque no se considera bilingüe, participar en BINACOM fue una experiencia muy interesante y enriquecedora. Asistir a este congreso le permitió ampliar su conocimiento en cuanto a la importancia que tienen la cultura mexicana y la estadounidense en San Diego, al igual que la importancia de manejar el español y el inglés en el periodismo.
Brian del Carmen escribió el ensayo titulado "Integridad periodística en la era de las redes sociales (Journalistic integrity in the age of social media)" que trata acerca del  impacto que tienen las redes sociales en la sociedad, y cómo afectan la credibilidad de los periodistas debido a la cantidad de información a la que están expuestos los usuarios de la internet. En cuanto a BINACOM, Del Carmen mencionó que le pareció una experiencia muy interesante, debido al enfoque binacional. Y agregó que hablar español es una ventaja y un factor clave en la actualidad.
Ambos ganadores aseguran que utilizarán el dinero que ganaron para sus estudios, L'Hereux dijo que lo guardaría en su cuenta de ahorros para hacer algunos pagos y tal vez para invitar a cenar a su familia. Mientras que Del Carmen aseguró lo guardará para adquirir su pase de transporte público y así poder asistir a la escuela el próximo semestre.