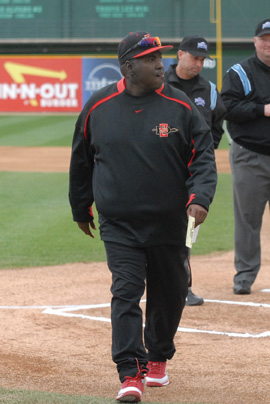 Who was Tony Gwynn?
To everyone he had different meaning.
From some of the people you will hear from in this issue he was a teammate, for others he was a coach and for one he was a father.
A common denominator between the people who shared their memories about Gwynn was that he was an influential figure that could light up a room no matter his state of health.
Gwynn was everything you could hope for from an ambassador of San Diego State.
A basketball and baseball player while on the Mesa, Gwynn excelled on the hardwood before the baseball diamond.
To this day, he's still recognized as one of the top point guards in school history and holds the school's career assist record.
He didn't begin his collegiate baseball career until his sophomore year, but was quickly an impact player and was a two-time All-American, while leading the team in hitting his final two seasons.
Gwynn's ability to succeed in basketball and baseball came to fruition on June 10, 1981 when he was selected by the San Diego Clippers in the NBA Draft and by the San Diego Padres in the MLB Draft.
The San Diego Padres were his choice, though, and from there a Hall-of-Fame career was born.
There are a ton of stats that define Tony Gwynn's career.
There's his eight batting titles, his 15 All-Star appearances and his 3,141 hits, which are No. 17 all-time.
Those numbers didn't happen on accident, as Gwynn is noted as one of the first professional baseball players to use film to analyze his swing.
He would spend hours before and after games fine-tuning what was one of the smoothest swings in baseball history.
But there's a stat that may just trump them all: one.
That's the amount of team's that Gwynn played for during his career.
Through thick and thin, and a lot of seasons where the team wasn't competing, Gwynn stayed with the Padres.
That's one of the many things that made him so likable.
He had every opportunity to go pursue more money with a different team, but routinely took discounts to stay in San Diego.
The discounts he took infuriated the MLB Players Association, which wanted players to set precedent with monster contracts, but Gwynn knew he was a fixture in the community and knew the impact he had on the people.
Gwynn was a big-time, national player who didn't act like it. 
He cared more about local media than he did the national media.
His treatment toward The Daily Aztec was unparalleled to most coaches, especially ones of his stature. 
It was not uncommon for him to give his personal phone number out to Daily Aztec writers so that they could be the first, or one of the first, ones to call him after a road trip.
This special issue represents what Gwynn meant to people.
One of the special things about his life and legacy is that just about everyone who lived in San Diego during his lifetime had their own individual memory of him.
That's because there was rarely an autograph that went unsigned or a hand that went unshaken.
He exemplified what it meant to be a true professional and a leader in the community and is missed every single day.