IFC hosts philanthropy events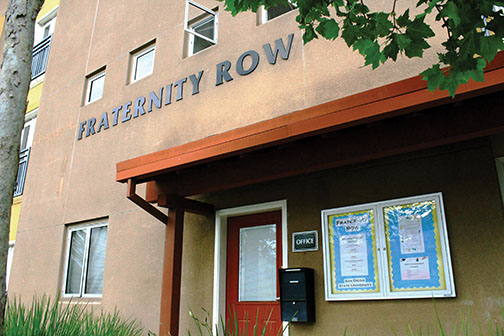 The weekend of Friday, April 29 to Sunday, May 1 was a philanthropic weekend for the Interfraternity Council.
Phi Delta Theta held "Ball for Life," a two day philanthropy for Amyotrophic Lateral Sclerosis, commonly known as Lou Gehrig's disease, on April 29- 30. On Friday, members from the greek chapters spent the day in a wheelchair and had to find the elevators and wheelchair accessible routes on campus. They also held a three on three wheelchair basketball tournament on Saturday in the Aztec Recreation Center.
Garrett Heffernan, Phi Delta Theta's vice president said their main goal for the philanthropy was to generate awareness.
"There were two aspects to the philanthropy's impact," Heffernan said. "One is to raise awareness for ALS in general and raise money for the cause. The other part of it is bringing disability awareness to our campus as a whole and bringing light to the challenges of people who need to use different modes of transportation on campus."
Sigma Phi Epsilon held their biannual beach soccer tournament "Sun Cup" on Sunday, May 1 to raise money for Leber's Hereditary Optic Neuropathy, an inherited form of vision loss. They teamed up with University of San Diego's chapter for the tournament on Mission Beach. LHON is especially significant to Sigma Phi Epsilon because an alumni from SDSU's chapter, Jeremy Poincenot, was diagnosed with the disease at the age of 19.
The two chapters raised over $4,000 through t-shirt sales, donations, registration fees, and an auction night where members from the participating teams could bid on 'coaches' after they performed skits.
Robin Winzelberg, CPA president said playing in the soccer tournament was a great way to improve communication with her chapter members.
"You get to know people better because you really have to use teamwork because you can't do it by yourself, you'll run out of energy," Winzelberg said. "And it's a lot of fun to meet the guys and to all be here for one cause."
These events were two of many held this past year after a short ban and restructure of policies on IFC and CPA competition based philanthropies. The new policies were geared towards focusing the philanthropies on awareness-based events, opening the events to the entire campus, and enforcing better risk management procedures.
"I believe that with these new systems and new procedures we are making sure our students are being safe while having a good time with their friends," said Scott Semel, IFC president. "It will only help raise more money for the causes that all of our fraternities and sororities try to raise awareness for."
Harrison Baum, a third year and member of Sigma Phi Epsilon, said he felt the competition aspect helps to make the events successful.
"Part of that competitive spirit is what drives an event like this to do really well," Baum said. "It can bring individual members of an organization closer and also at the same time, through competition unite separate organizations behind a common goal."
Jordan Lewton, Student Life Advisor for fraternity and sorority life, said she has seen IFC and CPA begin to emulate successful campus philanthropies such as Aztec Dance Marathon and Relay for Life.
"There is massive amounts of money raised, massive amounts of fun, massive amounts of awareness for the cause and massive amounts of people involved with ADM." Lewton said. "We don't need to ban philanthropies, we just need to fix the problems."