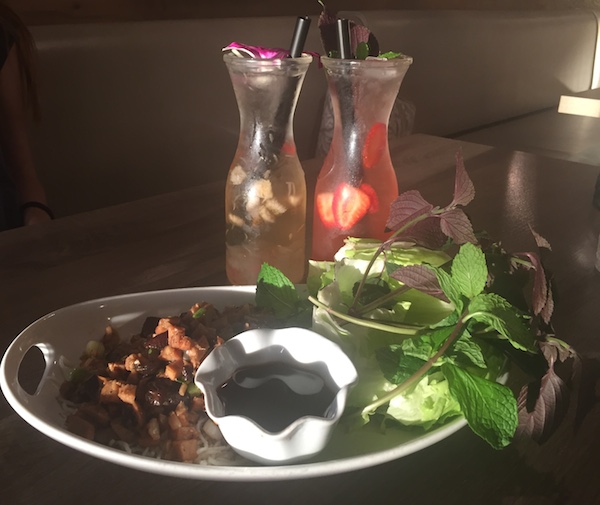 Orange chicken, duck lettuce wraps and crispy beef egg rolls. These Asian dishes have one thing in common: off-limits to vegetarians. However, The Purple Mint Vegetarian Bistro's goal is to recreate these classic, authentic Asian meals with soy-based protein in order to offer healthier, meatless options without sacrificing any flavor.
The Purple Mint is about a nine-minute drive from San Diego State, located on Mission Gorge Road. The restaurant is open Monday through Friday 11 a.m. to 3 p.m. and opens back up at 5 p.m. to 9 p.m. The Purple Mint is open from 11 a.m. to 9 p.m. Saturdays and Sundays.
The restaurant features hanging flowerpots and a small coy pond near the entrance to create an earthy, relaxing ambiance. There are paintings of Buddha heads on the walls and wooden chandeliers hanging from the ceiling, which adds to the Asian fusion theme.
The Purple Mint has a diverse and affordable menu. The most expensive entree, the Sizzling Steak Filet Mignon, is only $10.95. I found this impressive for an all-organic, non-GMO, vegetarian restaurant.
With two full pages of appetizers, four full pages of soups and two full pages of entrees, The Purple Mint has tons of options that even meat-eaters will find enjoyable.
"The shrimp and pork spring rolls were filling, crunchy and tasty," said accounting major and self-described meat lover Donny Chen. "I am absolutely shocked that they were made entirely from soy proteins. They tasted just like meat!"
It is obvious that this family-owned restaurant takes pride in each plate. The presentation is not only aesthetically pleasing, but quite unique. The restaurant stays true to their name by finishing off each plate with a signature purple mint.
"The presentation of my Kung Pao Chicken was beautiful," La Mesa resident Kat Stange said. "The food here is super filling, too. I love that I can eat half and take the rest home to save for lunch the next day."
If you're in need of something refreshing and cool to wash down your meal, you are definitely in luck. There is an entire page of beverages on the menu, equipped with basic sodas and out-of-the-ordinary refreshments.
Whether it's Thai iced tea with boba, young coconut juice in the shell, chrysanthemum iced tea or strawberry lemonade, The Purple Mint is bound to have a beverage to suit your fancy. Most drinks are served in a tall glass with a flower floating at the top, making them a perfect Instagram worthy opportunity and also a unique refresher.
Dining at The Purple Mint is an experience that cannot be rushed. The service was slower, so this restaurant is not the place to go for a quick bite to eat. Although all of the staff is personable and friendly, they do lack in attentiveness and speed.
You don't have to be a vegetarian to enjoy all of the options The Purple Mint has to offer. If you're looking for an affordable and filling Asian restaurant with a unique atmosphere, The Purple Mint is worth a visit, or two.