Being undocumented at San Diego State University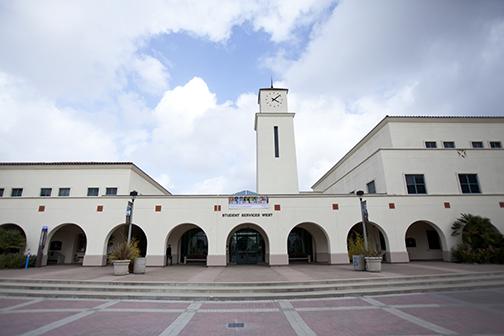 Several universities in the California State University and the University of California system have stated their commitment to supporting undocumented students on campus.
But only four California State Universities – CSU Fullerton, CSU Los Angeles, CSU Long Beach, CSU Northridge – and four University of California universities  – UC Berkeley, UC Davis, UC Irvine and UCLA –  have established physical undocumented resource centers on their campuses.
These centers provide relief and support for undocumented students through AB 540 Affidavit assistance, one-on-one counseling and scholarship and career advising to further their education.
The Dream Success Resource Area
San Diego State will soon be the fifth CSU to establish such a support system, with the opening of the Dream Success Resource Area in Spring 2017.
SDSU Student Services Assistant Vice President Vitaliano Figueroa wrote that the area will provide undocumented students with a  "dedicated space" where they can access resources including social and cultural programs, ally training and workshops specific to undocumented students.
The establishment of an undocumented resource center has been in discussion between student organizations, faculty and staff to make SDSU an undocufriendly campus.
"I am very pleased that space for a center has been dedicated," chicano studies professor Isidro Ortiz said. 
"If funded properly and comprehensively, the center will prove to be an excellent source of much resources and improve the campus climate for undocumented students. My hope is that it will be followed by a Raza Resource Center as have been established in CSU and UC systems.
"San Diego State has not been in the forefront, even though San Diego State is considered the so-called flagship of the CSU," Ortiz said. "On the issue of the center, we haven't been in the lead."
Sparking a conversation
Many SDSU students began vocalizing concerns about undocumented resources on campus after undocumented journalist and filmmaker Jose Antonio Vargas spoke at the university regarding immigration and undocumented issues on Sept. 29.
In an open letter shared on his social media accounts, Vargas called on SDSU President Elliot Hirshman to "direct (his) staff to provide a resource center for undocumented SDSU students" given the university's proximity to the border.
Cynthia Torres serves as an Educational Opportunity Program counselor and the advisor for Education Without Borders, a student-run organization that focuses on providing undocumented students and allies a space on campus to discuss the issues affecting this community.
Torres said she thinks Vargas' visit to SDSU sparked a flame for people to discuss the possibility of having an undocumented resource center, because his message resonated with many of the students.
"The student organization (EWB) … we have been talking about it for a long time and I think we are finally getting to a point where we really want to do something about that," Torres said.
The UndocuScholars Project
The Institute for Immigration, Globalization, & Education at UCLA, which provides research and information to policymakers, practitioners and leaders, conducted a national survey called the UndocuScholars Project that focused on obtaining information on undocumented students and their college experience.
The research estimated that about 200,000 to 225,000 undocumented individuals are enrolled and attending institutions of higher education.
Out of the 909 participants surveyed, 73 percent of them reported making use of undocumented resource centers on their campuses.
Until the center is officially established on campus, there is a resource website that students can access for guidance.
"It's good that there is a resource page, but it doesn't substitute for having university staff who can help bridge some of those resources and help provide the insiders perspective on how the university works and who can essentially help facilitate the integration of undocumented students in the university, which is critical for success," Ortiz said.
Ortiz said he believes there should be an support system provided by the university as an institution that recognizes the need to provide systematic formal support for its students.
Challenges with finding support
For many undocumented students, disclosing their status to university faculty and staff is not an easy decision.
There are a number of students at SDSU who are pursuing higher education because of the Deferred Action for Childhood Arrivals, which allows individuals to be eligible for work authorization and deferred deportation.
With this permission, students interested in attending public and private colleges can also apply to the California Dream Act, and receive state financial aid to alleviate tuition costs, but it often does not cover everything.
Criminal justice and psychology transfer Teresa Beltran is an undocumented student and a recipient of the Dream Act and DACA, which allowed her to pay for her tuition at SDSU. She is one of the few students who is eligible for these awards. Not every undocumented student is awarded or eligible for this kind of financial aid.
However, Beltran has never used any resources on campus to help her regarding her status and is not aware of the resources that the university provides undocumented students.
"I honestly don't know who I could ask for help," Beltran said.
She said it would be helpful to have a center on campus that addresses undocumented student needs.
"(The university should provide) support more than anything, and confidentiality just so that students know that they are in a safe environment and that they can open up, but besides that, obviously other resources," Beltran said. "Maybe how to get to grad school and maybe just finding resources for students who aren't legal residents so they don't feel limited on their education."
She said that as she got older, she noticed that her status limited her opportunities, but that she isn't ashamed of her situation and she will continue to pursue graduate school. She did credit her success on campus to a mentor she found through her organization, who is knowledgeable about her status and the resources available to help her.
Torres also said she faces challenges when it comes to bridging the divide between SDSU staff and undocumented students. A major part of her role involves trying to reach out to undocumented students, but it can be difficult to know where or how to contact some of these students.
She said the issue has always been getting access to these students, and figuring out how the university finds out who they are, because it is classified information.
"If we don't have access to that information, which is challenging and currently we don't, then we have to advertise by word-of-mouth using fliers,  posters, sending it out to an email listserv and also letting our counselors know," she said.
She believes the only way this issue will be acknowledged is if students get together and ask the university for the  resources they need.
What resources are already available for undocumented students at SDSU?
SDSU Student Services Assistant Vice President Vitaliano Figueroa said the university provides resources for undocumented students.
"San Diego State University is committed to the success of all students. SDSU is one of the most diverse campuses in the country. Our undocumented students represent a variety of cultures and experiences that contribute to the overall fabric of the university," Figueroa wrote in an email.
He said that EWB, the Office of Educational Opportunity Programs and the Office of Financial Aid and Scholarships already serve as resource spots for undocumented students on campus.
According to Vitaliano's email, 81 percent of currently enrolled undocumented students are low-income and can benefit from these on campus resources where a "dedicated space" will become a safe space for these students.