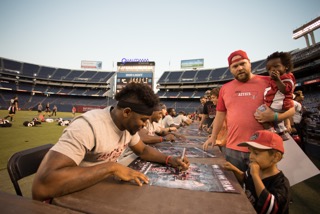 San Diego State football hosted it's annual Fan Fest at Qualcomm Stadium on Saturday, Aug. 19, with those in attendance able to watch the team's first live scrimmage of the year. Fans also came onto the field after play to meet and receive autographs from SDSU seniors.
The scrimmage itself showcased the Aztecs offense going up against the team's defense, which was an opportunity for players on both sides of the ball to practice at live speeds in a regular game setting.
During the scrimmage players on both the offensive and defensive side of the ball made big plays, with scores coming on both ends. Sophomore safety Jeff Clay returned a 4th quarter interception by freshman quarterback Mark Salazar 45 yards for a touchdown, while the SDSU offense scored from both ground and air en route to putting up 27 total points.
Head coach Rocky Long was quick to point out after the game that all three offensive touchdowns came against the third team defense, and stressed that he saw both promise and things to improve on from his offensive and defensive players.
"I don't think it was one sided on either side of the ball," Long said. "I think there was some good things that happened, and there was some things that weren't very good that happened."
With only two weeks to go until SDSU's Sept. 2 season opener against UC Davis, Long also saw the scrimmage as an opportunity to help finalize which players belong in the team's starting lineup, and which can add depth to a young Aztecs core.
"We hope to find out who the starters are going to be in positions that are up for grabs," Long said. "We have to have at least two deep on both sides of the ball to get through a season and play well."
One player who made a big impact during the scrimmage was redshirt freshman wide receiver Isiah Macklin. Macklin, a large target at 6-foot-5, caught two passes for touchdowns from two different Aztec quarterbacks during the game.
"I think I did alright, those two touchdowns were great," Macklin said. "It was a great opportunity to have showcasing that here."
After sitting out last year, Macklin admitted to having some pregame jitters. The young receiver from Las Vegas, Nev. was quick to regain his composure however once the game got underway.
"At first I was a little nervous because it's been awhile since I've been in a game environment, but after that, couple hits I got used to it," he said.
On defense, junior safety Parker Baldwin and sophomore cornerback Garrett Binkley led the Aztecs with seven tackles, while senior linebacker Randy Ricks and sophomore linebacker Kyahva Tezino led the team with two sacks apiece.
Freshman running back Kaegun Williams punctuated the Aztecs' ground game with a 51-yard dash, ultimately finishing the scrimmage with 100 yards on 20 carries.
Another freshman runner who may have made a name for himself was redshirt freshman Chase Jasmin, who had a two-yard touchdown run and finished the game with 60 yards on 16 attempts.
Jasmin, out of Aroura Hills, Calif., said after the game that he has a team first attitude, and that when it comes to playing time this season he simply puts trust in his coaches.
"There's competition all the time," Jasmin said. "Our coaches always tell us the best player plays and our job as running backs is to be consistent, do our job and give 100 percent every down and then whoever earns it earns it."