'Rally Against Hate' marches through San Diego
Similar actions have taken place nationwide in response to violence in Charlottesville, Virginia.
Several hundred protesters, including San Diego State professors and students, marched from Balboa Park to downtown San Diego as part of a "Rally Against Hate" Sunday afternoon.
Over 1,000 Facebook users said they went to the event, which began at the Museum of Man in Balboa Park before marchers headed downtown.
Ozzie Monge, an American Indian Studies Professor at SDSU, was one of the first speakers at the rally.
"I'm honored and humbled to be invited to speak to you and to kick this event off because it's very important that we stand up to this pernicious form of hatred and racism," Monge said.
Many things found in modern-day California are symbols of white supremacy, he said.
"A lot of people don't recognize them because they've been normalized through education," he said. "(The) missions are places where indigenous cultures were being destroyed."
As the protest began to get underway, chants such as "This is what democracy looks like!" and "No Trump, no KKK, no fascist USA" could be heard over tunes played by the Radical Marching Band.
Aaron Gragg, a San Diego resident and a tuba player for the band, said his organization was there to "bring a positive vibe" to the rally.
"When people have a beat to chant to and to march to, it's really energizing and I love to being able to provide that for people," Gragg said.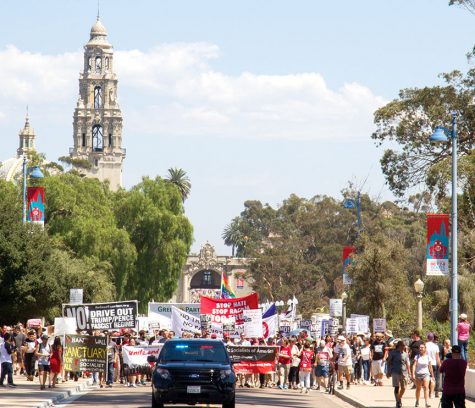 Police were seen monitoring the crowd, and traffic was temporarily shut down as they escorted marchers down city streets.
"We're here to say no to Trump, no to fascism, no to racism and to stand up for our communities because it's important that people not take the message from what's going on," said Bo Elder, an SDSU graduate student who helped organize the march. "I think that coming out to events is a great, commendable and irreplaceable first step that everybody takes. Times really require us to put some other parts of our lives on hold and step up and and dedicating ourselves to organizing our communities"
Elder said in his view, it's obvious that the views and actions displayed at the white nationalist rally in Charlottesville, Virginia — where counter-protestor Heather Heyer, 32, was killed — are not indicative of the nation at large.
"It's important for people to see their neighbors come out and oppose it — to know that in fact those fascists and racists do not have the support of many of their friends, coworkers and family members," he said.
Cameron George, a UC Riverside student, agreed with this sentiment. George said he hadn't heard about the rally until a few days before, but decided to attend to show his support.
"The people here [are] walking for what they believe," he said. "Although I am one person, it adds up. My little brother is a person, everyone is a person and if we get together, we can make a difference. I want to feel better by being in this and to [believe] that people are good and aren't all bad."
There were few counter-protesters to be seen, unlike in Berkeley, California, where left and right clashed violently over the weekend. One man, though, who held up a sign saying, "People once tried to silence MLK as hate speech," made an appearance before members of the main rally showed up to stonewall him, following him and blocking his signs with their own.
The self-described "free speech" protester, San Diego resident Edward Morfeld, said what he was frightened by a rally that he perceived as hostile to outside ideas.
"I'm not a Nazi. I'm not even a Trump supporter," Morfeld said. "I do think that there's a lot of one-sidedness. I do think that saying anyone who disagrees with this is somehow a Nazi, is a lot like saying anyone who believes in Black Lives Matter likes to go out and grab people out of their car and beat them up."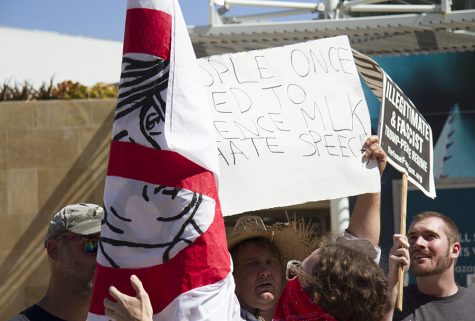 Morfeld said in fact, he agrees with much of the rally-goers' beliefs.
"I'm very disappointed to see how we treat Hispanics in this country," he said. "I'm very bothered by what's happening with the environment."
But there was plenty he disagreed with, too.
"I'm sure this can make me classified — if you want, really badly — to say I'm a white supremacist, it did bother me that there was nothing in there when they said we want to have no hate for Muslims, black people, Hispanics, (but) they didn't say whites," Morfeld said.
Though protesters did their best to block Morfeld's signs from view, there was no attempt at physical harm.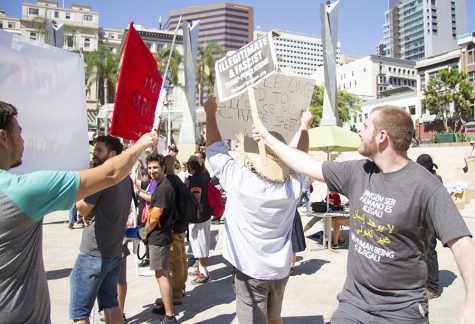 In the rally's Facebook event page, organizers stated they did not endorse violence.
"We understand that we are operating in public space and therefore people outside of our group are freely allowed to express their opinions about our event," the statement said. "We have people involved whose purpose is to keep the members of the rally as safe as possible and serve as street medics if necessary, but we will not cede our legal right to defend ourselves if we are in imminent physical danger. Inciting violence is not the intent of our rally."
There were no arrests related to the protest, according to the San Diego Police Department.