2017 SDSU football preview: fresh faces combine with proven assets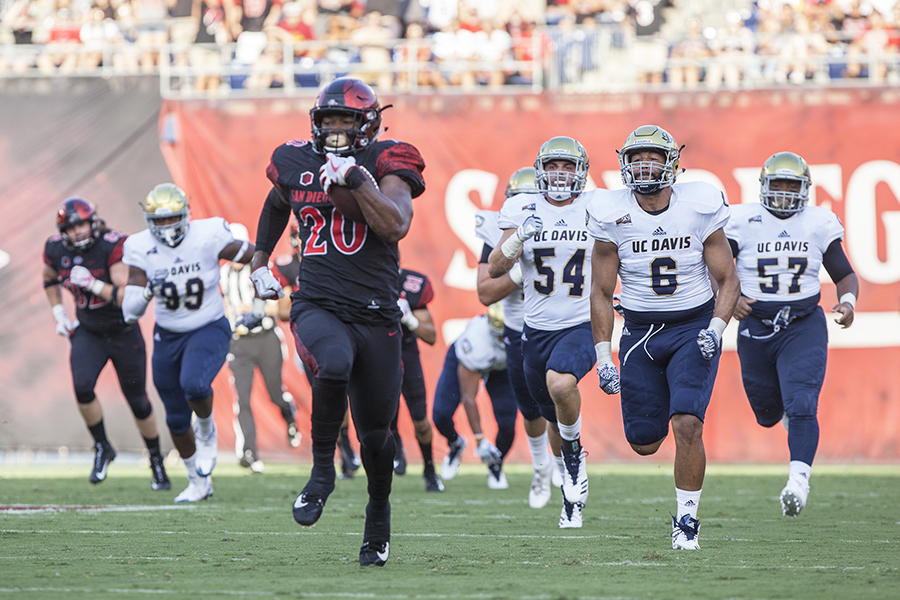 San Diego State football comes into the 2017 season looking to defend its Mountain West Conference championship. Head coach Rocky Long will be entering his seventh season at the helm, as his team looks to exceed its 11 game win total from 2015 and 2016.
SDSU finished last season ranked No. 25 overall in both the Associated Press and Coaches national polls, and looks to climb its way back into the rankings with only 12 starters – five on offense and six on defense – returning for the new year. SDSU got off to a fast start in its week one matchup against UC Davis, winning the Sept. 2 home opener by a score of 38-17.
Rashaad Penny, the current SDSU record holder for yards-per-carry in a season with 7.49 in 2016, will be taking over as the team's starting running back, and could find himself running into Heisman trophy contention. Penny, who will be backed up this year by sophomore running back Juwan Washington, ran wild in the Aztecs first game against Davis, giving a glimpse of what he has to offer this year by running for a game high 197 yards on just 21 carries.
Penny, who previously backed up Donnel Pumphrey while functioning as the Aztecs primary kick returner, is ready to take on a marquee role this season.
"It was exciting, I mean I knew I was going to get this opportunity by just waiting and being patient," Penny said after the week one victory.
SDSU will also be looking for big things from redshirt junior Christian Chapman, who enters the year as the team's starting quarterback for the second straight season. Chapman, who may be asked to take on a more prominent role in the offense this season, showed against Davis that he can be accurate in the pocket, completing 16 of 21 passes for 220 yards with two touchdowns.
While the Aztecs have been more run oriented in recent years, Chapman made clear after the Davis game that he believes in the teammates put around him on an offense that could be much more versatile.
"Our receiving corps is really good this year. We've got a lot of weapons," Chapman said. "You've seen what we can do in the running game and the passing game so we're gonna be good."
Long is on board with the idea that the passing game could take on a greater role this year.
"(The) Passing game is going to be better because we have a veteran quarterback and we have more skill at wide receiver," Long said. "We're not a drop back team, we're not a shotgun team, but as long as we can efficiently run the ball, we're going to have some receivers that are open."
Even with the return of starters like Chapman and proven assets like Penny, the Aztecs will be a team that is full of youth, which brings with it questions. The offensive line this season will feature four new starters, with only senior guard Antonio Rosales returning as a starter from last years squad.
In their first test of the season Chapman was sacked one time against Davis while the offense rushed for 276 yards.
"I was happy for the offensive line," Long said after. "We know (Penny and Washington) can run the ball. But they don't get to run with the ball unless the big boys upfront do a pretty good job and I thought the offensive line got better as the game went along."
On the defensive side of the ball the Aztecs lack experience and depth past the starters, something which was on display during the fourth quarter against Davis. In the final frame the Aggies were able to move the ball seemingly at will, putting up two touchdowns against the inexperienced SDSU backups.
In his postgame press conference Long said that he worried the youth of his defense could become a significant factor as the season goes on.
"This is the youngest defense we've had since I've been here, by far," Long said. "If you take the starters out of there, you see what you get."
The man who will be in charge of making sure the defense plays up to its reputation this season will be Danny Gonzales, who has been promoted to defensive coordinator this year after being the Aztecs' safeties coach for the past six seasons.
Gonzales said he believes in his defensive players, while at the same time acknowledging that the youth factor is something him and the rest of his staff have to work hard on.
"We've got some young guys in the secondary that we need to play well early, we've got some true freshmen that we're counting on playing," Gonzales said. "Those guys will have a chance… because they are good enough athletes. The thing that we've got to eliminate now, that you have a lot of time with freshman playing, is mistakes."
SDSU's next test will come in its first of two back to back matchups against PAC-12 Conference schools, when they travel to Tempe, Arizona on Sept. 9 to face off against the Arizona State, a team which the Aztecs have not beaten in 11 chances. SDSU will follow up this game with a home matchup against Stanford on Sept. 16, when it will go against a Cardinal team that came into the 2017 season ranked No. 14 overall in national polls.
The Aztecs will then kick off Mountain West Conference play on Sept. 23, when they head up to Colorado to take on Air Force, in a game which will be the schools' first meeting since the 2015 Mountain West Conference championship game.