Aztecs open conference play with road battle at Air Force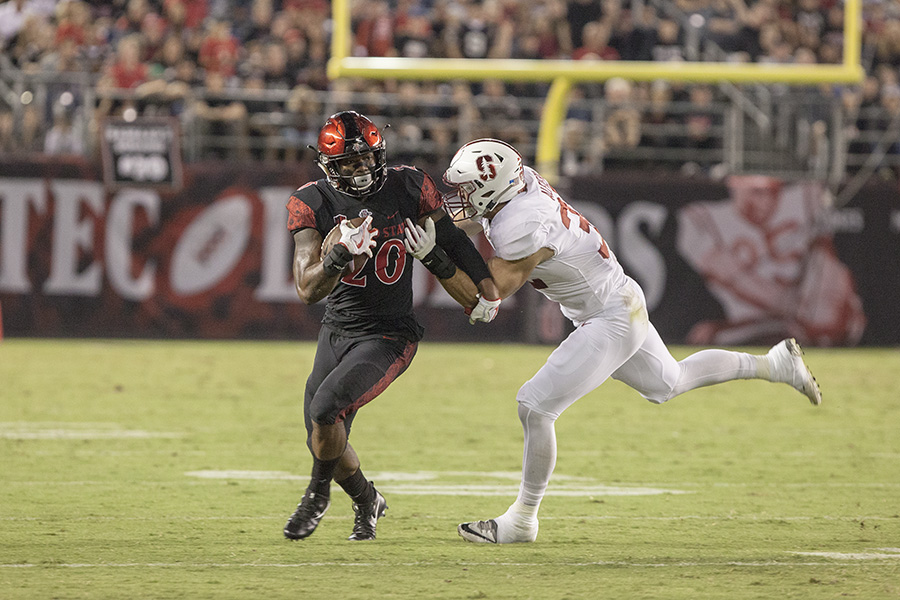 San Diego State football travels to Falcon Stadium in Colorado Springs, Colorado on Saturday, Sept. 23, for a game against Air Force Academy. The contest will kick off SDSU's Mountain West Conference schedule.
The two-time defending MWC champion Aztecs are 3-0 to start the season, and will look to avoid a letdown following the team's upset win this past weekend over then No. 19 Stanford University.
The victory placed SDSU on the national radar, as it comes into the week ranked No. 22 in the AP Poll and No. 25 in the Amway Coaches Poll.
"I think it means something different to everyone involved," Aztecs head coach Rocky Long said. "I think it's nice to be ranked, but being ranked means nothing until the end of the season."
While there is always a possibility of a letdown after a big win, Long said it is his job to keep his team ready and focused for the next game.
"As a coach, you try to keep them on an even keel, on a routine, so there are no big ups and downs," Long said. "That doesn't mean we're going to win every game. I hope we do, but we have to play at a certain level in every game to have a chance to win."
During the 2016 season, SDSU twice lost a game the week it was ranked in the AP top 25. One came week three against University of South Alabama and the other in week 10 against the University of Wyoming. Both were road games.
A victory for Air Force, which fell to 1-1 following a 29-13 road loss to then No. 7 University of Michigan, would not only give the Aztecs their first loss of the season, it would also end the Falcons six-game losing streak to the Scarlet and Black, dating back to 2010.
Even with his team's recent success in the matchup, Long didn't downplay the difficulty that comes with playing a team like Air Force.
"They present all kinds of problems," Long said. "Last time we played them in 2015 they had over 300 yards rushing, and we were lucky to win the game."
For the Falcons to have a chance they will have to contain the FBS leading rusher in Rashaad Penny, who was named the MWC Offensive Player of the Week for the third straight time this season, after rushing for 175 yards on 32 carries against Stanford. SDSU's senior running back comes into the matchup with 588 rushing yards, averaging 196 yards per game with 8.3 yards per attempt. Penny has rushed for over 150 yards in every game this season, and has yet to finish with under 200 all-purpose yards.
Air Force likes to stack the box on defense, and have given up only one rushing touchdown this season while leading the MWC in average yards-allowed-per-game with 227.
"They'll have 10 guys in the box," SDSU offensive coordinator Jeff Horton, said. "We'll have to handle the pressure. Hopefully when people do that you can break some big plays on them."
On the other side of the ball, the Aztecs will have to find a way to slow down Air Force junior quarterback Arion Worthman.
In the Falcons preferred triple option offense attack, Worthman, who attempted 26 rushes 60 yards against Michigan, functions as the team's primary ball carrier and passer.
"It's like having a tailback at quarterback," SDSU defensive coordinator Danny Gonzales, said. "He can pitch it and those guys are fast. It's like having Rashaad (Penny) at quarterback… every time he touches the ball there's a chance it could be a big play."
The triple-option offense allows teams to have three players that could rush the ball on any given play. Often the quarterback will run with the snap, and put himself in position to pitch the ball to a teammate trailing slightly behind.
"Triple-option, it's a whole different animal," Gonzales said. "If we tackle well, everything's fine. If not, it's not, and they'll run up and down the field."
A player to watch on the SDSU defense will be senior cornerback Kameron Kelly, who as Penny put it, "played like a man possessed" during the team's victory over Stanford.
Kelly, who was named the Bronko Nagurski National Defensive Player of the Week as well as the MWC Defensive Player of the Week, was all over the field, finishing with six tackles – including two for loss – two sacks, a forced fumble and a game-sealing interception in the waning moments.
The sacks and forced fumble were the first of his collegiate career, but even after arguably the game of his life, Kelly said he still saw the bigger picture.
"Our biggest goal is to win the conference championship," Kelly said. "Air Force is the biggest game."
The Aztecs will be looking for continued improvement from redshirt junior quarterback Christian Chapman, who appeared to be struggling to find his groove after passing for only 73 yards in the teams week two victory over Arizona State.
Chapman fared much better against Stanford, throwing for 187 yards on 21-29 passing, and orchestrated a 75-yard game-winning drive. Chapman was able to withstand a 22-minute delay during the drive, caused by a stadium power outage.
"I've matured a lot," Chapman said. "I think it kind of showed."
That maturity will be critical against an Air Force team that is relentless in its pursuit of the opposing quarterback, despite only averaging one-and-a-half sacks through the first two games this season.
"Air Force is a high-pressure defense, they like to play zero coverage and they blitz like crazy," Horton said. "It's like you're playing on an aircraft carrier and the jets are taking off."