Desensitized to the scores of outstretched palms and helpless pleas more privileged people encounter everyday, it's difficult to conceptualize the fact that San Diego is home to the fourth largest homeless population in the country.
However, it is through the arts that the grim truths of today can spur hope for tomorrow.
Utilizing the profound work of skilled artists and filmmakers at the Digital Gym Cinema in North Park, "The Art of Ending Homelessness" highlighted the humanity in an inhumane lifestyle.
The event was created through a partnership between Media Arts Center San Diego and Father Joe's Villages, San Diego's largest homeless services provider.
The mission of Father Joe's Villages is to help people off the streets and break the cycle of homelessness one life at a time.
Father Joe's Villages president and CEO Deacon Jim Vargas was on hand at the event to emphasize the connection between his organization and the showcase.
"On occasions such as these we take the opportunity to heighten awareness of homelessness for the public," Vargas said, "Hopefully calling people to action and helping them realize how they can be part of the solution."
Two of the artists issuing this call to action were painter and San Diego State professor Neil Shigley, along with Pulitzer-Prize winning San Diego Union-Tribune cartoonist Steve Breen. Their portraits depicted the vibrant characters living on the downtown San Diego streets.
Allan Ostermann, the third artist of the hour, claimed to feel a little out of the loop in regards to the dynamics of the event.
"My art isn't about homeless people," Ostermann said, "I am the homeless person."
Ostermann is college-educated and worked as a graphic designer for a prolific New York City book publisher. However family tragedy and struggles with Bipolar disorder forced him to give up the life he knew, eventually landing him on the street.
Today, Ostermann lives at the St. Vincent de Paul Village, a Father Joe's homeless shelter.
He creates stunning expressionist portraits by flipping through magazines and depicting faces he finds interesting.
"My process is all intuitive, I just jump right in," Ostermann said. "I don't do any kind of preparation, everything you see there is what I put down. I can't erase anything, which is kind of scary but also exciting. It's actually a surprise for me to see how it turns out, I never really know."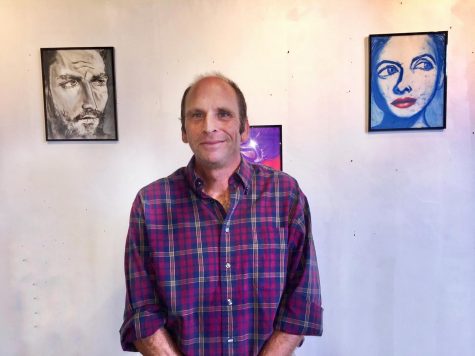 Ostermann cites his art as a means of both happiness and healing.
Although his pieces don't portray those like him, he believes they fit into the broader theme of art inducing activism through their ability to evoke empathy in the viewer.
"I feel that since my art is so expressive in the way that it depicts people, that it helps to highlight the human condition," Ostermann said.
To supplement the showcase, the three artists shared their distinct points of view in a panel discussion on the arts' ability to facilitate activism.
The evening then shifted gears to explore this theme through the lens of another medium— film.
The first film screened was "Shine," an animated short film created by Father Joe's Villages, local integrated marketing agency i.d.e.a. and Golden Globe-nominated animation studio Reel FX. The film had the intention of shifting public perceptions of homelessness.
The event concluded with a sold out screening of the feature film "Time Out of Mind," the story of a homeless man trying to reconnect with his estranged daughter. A large portion of the ticket proceeds were donated to Father Joe's.
"We're all attracted to art, and when you're attracted to something, you pay attention to it," Vargas said. "You're able to stop and think about the story behind the images and ultimately the individuals. It's about realizing that these people are just like us except that their circumstances have caused them to become homeless. Art helps us to make this realization."
Whether trekking the sidewalks of downtown or SDSU, few individuals can say they've never refused eye contact or denied spare change to the most vulnerable of neighbors. However the work of Ostermann, Shigley, Breen and Father Joe's Villages are helping to give figurative and literal faces to homelessness.
While the homeless crisis will ultimately be solved with dollars and volunteers, paper and celluloid aren't bad ways to start.
To learn more about Father Joe's Villages, visit my.neighbor.org.