Por Vida serves cultura and café in Barrio Logan
San Diego is home to a slew of Instagram-worthy coffee shops. From walls of succulents to rainbow lattes, there is something for every trend seeker and although these places have great photo opportunities, one coffee shop stands out from the rest.
Opening in 2015, Por Vida highlights coffee, culture and art.
Owners Carolina Santana and Milo Lorenzana and manager Bucky Montero have been working in Barrio Logan, and similar neighborhoods in San Diego, for quite some time.
They chose to open a shop in Barrio Logan, as opposed to more "hip" areas like North Park and Hillcrest, because of their connection to the community.
"We wanted a space to share with the community," Montero said. We are rooted here, we're dedicated to the neighborhood."
They chose to stay in Barrio Logan to create a space for creativity and community events.
They manage the building where Por Vida is located which also includes Beat Box Records, a salon, art studios and workspaces.
Santana also runs San Diego Taco Company which is affiliated with Salud in Barrio Logan.
Por Vida's Instagram biography labels the coffee shop "cafe – cultura – galería," — they embody all of this in their shop.
The black and white tattoo style graffiti art showing the shop name immediately catches the eye.
Inside there are deep brown wooden benches and tables along the walls adorned with potted nopales and cacti. Some are painted with small calaveras, La Virgen de Guadalupe and a brown fist with #heretostay.
The windows at the front of the shop open up so that guests sitting on the metal stools have a view of other shops along the street.
Por Vida has a unique hand crafted menu with speciality coffee drinks such as the canela y brown sugar latte, mazapán latte, horchata cold brew and the daring cold brew limonada.
They also have house made aguas frescas like spicy limonada, spicy mango limonada, spicy sandia limonada and regular limonada that are all seasoned with tajin around the rim of the cup.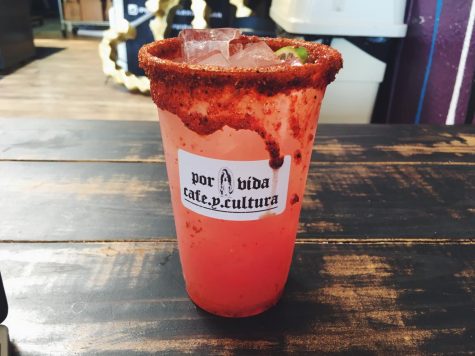 The cups have delightful artwork that feature La Virgen de Guadalupe, Frida Kahlo and their shop logo.
Aside from their specialty drinks, they also offer small bites like oatmeal and pan dulce and feature Por Vida merchandise for sale such as pins, stickers, shirts and mugs.
Montero said they did not anticipate opening a coffee shop, but the opportunity presented itself. The team was happy to craft a menu, sell merchandise and exhibit art that represented their culture in an area filled with so much art and activism.
"A lot of the things we bring here are things we grew up with, the sandia limonada tastes like if you were at home eating watermelon with tajin," Montero said. "Representing our culture is the goal."
Por Vida features various local artists that change their artwork about every six months.
At the moment, there is a large framed painting of La Virgen de Guadalupe, an image of Frida Kahlo painted on a glass window pane, a large painting of La Rosa from the Mexican game loterĺa and various framed pieces throughout the shop including photos of Barrio Logan, Chicano Park and lowriders.
Por Vida also organizes many community events. They recently had a pop up shop with Bella Doña, but have also hosted car shows, art shows, monthly flea markets and coffee throwdowns.
They plan to hold a Dia de Los Muertos flea market that will feature local vendors selling handmade and vintage items, food vendors, music, and an altar that will be displayed throughout the month of October for anyone to contribute and honor those who have passed away. The flea market will be on October 28th and all are welcome.
According to Montero, Por Vida  has plans to expand their menu to include more small bites that can accompany their drinks.
This establishment embraces the barrio and the culture that surrounds it.
Locals in the community stop by to chat with the genuine staff members, something unique to their shop compared to many other "hip" coffee shops.
Por Vida's drinks are beautifully crafted and the artwork is deserving of the most aesthetically pleasing photos, but those drinks and artwork also carry with them a vibrant culture and deep roots in the community.