Women's soccer closes out home schedule with shutout of Colorado State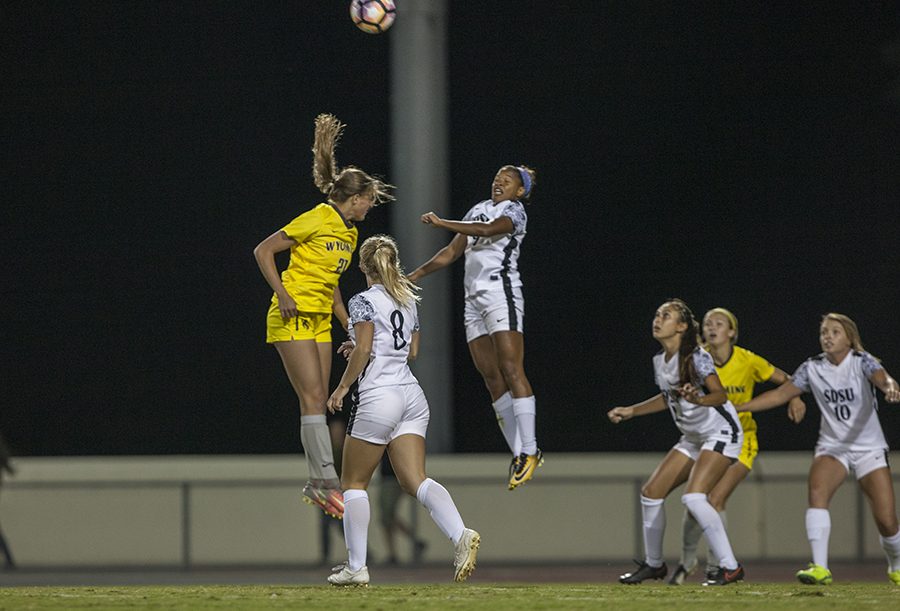 by Christina Corona, Contributor
October 22, 2017
San Diego State women's soccer hosted its final home game Sunday afternoon, defeating Colorado State, 3-0, for its third consecutive win. 
The win moved the Aztecs to 9-7-2 overall and 6-2-2 in the Mountain West play, while the Rams fell to 4-9-5 (2-5-3 MW).
Freshman forward Mia Root put the Aztecs up early with two first-half goals.
The first goal came when Root sent a left-footer inside from inside the box that soared past redshirt sophomore goalkeeper Hunter Peifer in the 18th minute. Scoring off of a corner kick, Root followed through while surrounded by Rams defenders.
"I saw that the girl was going to dive in, so I took the touch and I faked that I was going to shoot it," Root said. "I just shot it and luckily it went in."
Fifteen minutes later, senior forward Aliyah Utush sent a pass to Root, who landed shot that bounced off the left post and into the net.
It was Root's second goal of the game and eighth of the season.
The final goal came when Utush ran down the inline, assisting senior forward Angela Mitchell who landed the finish in the 51st minute. It was Mitchell's second goal of the season.
"It was great work off of Aliyah (Utush)," Mitchell said. "She followed the play, she put it exactly where it needed to be and I slotted it home."
SDSU head coach Mike Friesen said jumping out to an early lead was a goal of his coming into the game.
"I wanted to get some early goals," Friesen said. "Getting on top early is huge. Coming off of a good win on Friday and to get an early goal — then a couple of goals after — really helped us today."
The Aztecs will play their final regular season game on Friday, Oct. 27 at New Mexico before heading to Mountain West Conference Tournament in Las Vegas.
Friesen said that getting healthy is huge step for getting ready for New Mexico and for the tournament.
"Going into the tournament healthy and continue to play the way we've been playing, is our preparation," Friesen said. "We're building at the right moment into that spot where we're playing at our best."