The mood was festive, the lights were dim and the packed auditorium cheered for the wide genre of student films being screened. Campus Movie Fest returned to San Diego State with a strong turnout from contestants and supporters alike.
Television, film and media senior Sean Brandt's film "Oh Deer!" took home one of the top four Jury Awards and the Best Story Silver Tripod Award.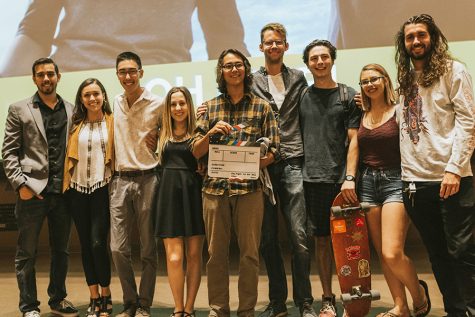 "I've never won best story or anything like that before, so that was cool," Brandt said. "I think I was more excited about that than the Jury Award to be honest."
Campus Movie Fest is an organization that has been traveling to more than 30 college campuses since 2001 and returned to SDSU for a week of movie making magic. Its mission of providing college students with high-end film making equipment and software is sponsored by companies like Panasonic, Apple, Adobe and Sony.
SDSU students submitted 77 entries for this year's festival.
Each team of participants was given a week to make a five-minute short film. Of the 77 entries this year, the 16 best were showcased during a red carpet premiere on Oct. 26 in Montezuma Hall.
Along with the screening festivities, the event included refreshments, door prizes, social media games and a best dressed contest.
Theater performance senior Ashlyn Savidge, the lead actor in television, film and media senior Chelsea Best's film "Breath One's Last," has worked with Best for the last four years. Savidge said working in this year's festival was an amazing opportunity that taught them both so much.
The organization features several categories of winners.
The Silver Tripod awards were given with distinctions of best story, sound, cinematography and performance. The winners in respective order included the films "Oh Deer!," "Dark Days," "Breath One's Last" and "Welcome to the Demon Club."
The top four of the Jury Awards group included television, film and media senior Neil Murcko's film "A World Flipped," along with "Oh Deer!," "Dark Days" and "Breath One's Last." These films will move on to the next step in the competition held in Atlanta. Those selected in Atlanta will move on to the Cannes Festival in France.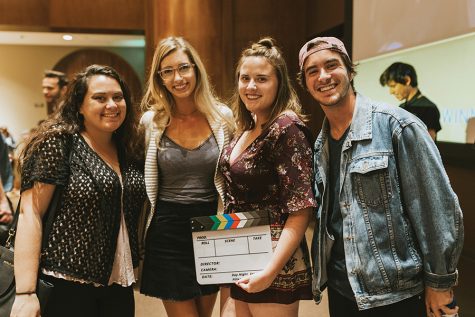 Brandt and Pieper's Campus Movie Fest film last year was chosen to be shown in Cannes.
"We went last year and it was a blast," Brandt said.
Best and Savidge have also attended the Cannes Festival in the past.
SDSU is building a legacy of young filmmakers making it all the way through the CMF gambit to attend one of the world's most talked about and respected film festivals.
While the award winning films were highlighted, many of the other showcased films received big laughs and praise from the audience.
Films ranged from comedies about a sex-crazed Ernest Hemingway, to horror film spoofs where monsters danced. Thrillers and art-house dramas were shown as well.
All 77 titles can be viewed on the Campus Movie Fest website.
"We're really excited. We've been praying really hard," business entrepreneurship student Christine Lutz said about her film "Chrissy Divine: The Movie," which was one of the titles that did not make the showcase but is available on the CMF website to view.
For many hopeful filmmakers, the night ended like it did for Lutz. They were beat by other films, but the atmosphere of the auditorium did not reflect defeat.
For some this will be their last year participating in CMF, but for others it is just the start.
"This is my third year making movies with Campus Movie Fest and it just gets more and more intense every year," media studies senior Yeeleng Xiong said.    
The winners in Atlanta will be moving on to the sought after Cannes Festival. Maybe SDSU will make another appearance.