SDSU celebrates 120 years of history with author and anthropologist Seth Mallios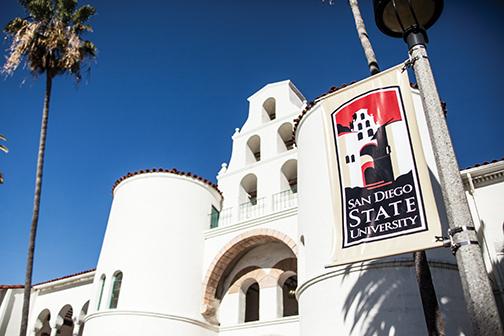 As part of SDSU's 120th anniversary celebration, anthropologist and author of "Hail Montezuma!: The Hidden Treasures of San Diego State," Seth Mallios presented a lecture on the history of  the university.
The lecture drew an audience of both students and alumni to witness an overview of 120 years of SDSU history on Nov. 9 at the Parma Payne Goodall Alumni Center.
Mallios, a professor of anthropology, focused on the institutional background of the university and the traditions that developed over the years. He covered architecture, murals and memorable events, such as a visit by President John F. Kennedy in 1963.
The history of SDSU began in 1897 with the establishment of the San Diego Normal School — a teachers' college. The school eventually became known as San Diego State College, and in 1974, was renamed San Diego State University.
"What's really inspiring to me is that SDSU has become such a focus of the community," said Spence Milne, an alumnus who attended Mallios' lecture. "Today, everyone has all eyes on the school."
Milne graduated with a degree in European Studies in 1968, and was one of the first to assume the role of the Aztec mascot during football games — a figure that has increasingly garnered criticism, and was overwhelmingly voted out by the university senate Nov. 7.
"SDSU means completely everything, it's an integral part of the family," Milne said. "Both my parents were faculty. My father was a professor of sociology and was the Social Science Division chairman, which is now known as the College of Arts and Letters."
When he began attending in 1964,enrollment had just reached 10,000 students.
In 2016, there were over 30,000 students at SDSU.
"The campus is completely different and it's moving to see it expand," he said.
Mallios said the university has a thriving community and it was fun to see people of different ages mixing together during his lecture.
"We are the oldest, the largest and the most diverse institution in the region," Mallios said. "I think that's incredibly important to be able to bring together the generations."
He said he wanted to highlight that all students – whether they are part of the class of 1918, 1968 or 2018 – did and still do have similarities.
"You can look back into the past history (of SDSU) and see that students faced similar issues and it shows that we are all pretty similar," Mallios said. "When I started here, I was told by a former president that (SDSU) had no history or tradition. I've been able to see over the past 17 years is people getting excited both about SDSU now and its rich history."
He said the university has done well as a community because of the few presidents it has had since its founding.
Since 1897, SDSU has had eight presidents — below average for universities, Mallios said. In the same time period, UC Berkeley was led by 13 different people.
"When you have leaders that are here for 15 to 20 years, it makes you feel like (the community) is worth investing in," Mallios said.