Matisyahu said he thinks that the best kinds of concerts are blended. In these instances, music not only transports listeners to a meditative space of movement, but lighter, easy moments too.
From performance to reaction, the Jewish American vocalist's conviction certainly reflects his own concerts, one of which was recently held at downtown San Diego's Music Box.
The reggae artist–a character who frequently fuses the Rastafari-related sound with elements of hip hop, rock and pop–directed a secularly spiritual gathering on Nov. 10 at the modern Little Italy venue, where fans swayed before neon stage lights with chilled beverages in hand.
Sure, these folks were dressed in flannels and jeans, but the Bob Marley music occupying the spaces between each performer filled the room with a warmth and groove that quality reggae perfects.
Orphan and Zion I prefaced Matisyahu's performance with their energetic opening acts.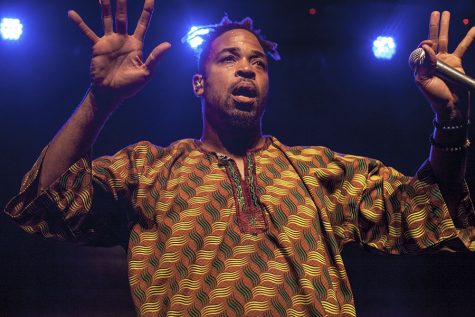 For the next two hours, the Music Box felt like a well-needed summer escape, smack-dab in the middle of fall. But despite the evening's atmosphere starkly contrasting the chilly, undistinctive outside world, it was anything but forced or unnatural, for a Matisyahu show at least.
Just hours earlier, the New York native revealed that his performances are rooted in organic sensibilities, rather than manufactured enthusiasm.
"I don't really come out on stage really fired up, it takes me a bit of time," Matisyahu said. "But I think it's cool for an audience to see how a performer is organically going to get into the creative space. We have to feel it out and ask, 'What's the right song at the right moment?'"
Although Matisyahu later noted that his "real fans" appreciate this conscious, natural attitude the most, it was hard to discern legitimate supporters from fake ones on Friday night.
Everyone seemed to be in a space of halcyon, especially after Oakland alt hip-hop act Zion I exited the stage after gifting the crowd with one last banger—a track called "Coastin'" that rapper Baba Zumbi dedicated to "people who are working every f–king day to make their dreams come true."
The roof-raising song doubled as a feel-good anthem, the kind of inspirational music that Matisyahu is famous for blessing contemporary reggae fans with.
However, it's in this certain way that Zion I's music juxtaposed some of the performed tracks from his successor's lengthy, but well-flowing set.
Clocking in at a steep 90 minutes, Matisyahu's time on stage was a raw reproduction of his latest, most introspective record, "Undercurrent," released in May. Both the eight-track reggae-rock album and its accompanying live recital explores a reflective tone that Matisyahu regards to be more than ear candy or quick, inspirational music.
Instead, "Undercurrent" is art to lose oneself in—its title, inspired by the ebb and flow of water that the vocalist observed while living in a river house in New York, touches on what he refers to as the "currents of life, and how they pull you back home, back to yourself."
"('Undercurrent') is kind of artistic in the sense that I didn't want to make any compromise on song length or what would work better for radio or for fans," Matisyahu said.
The album consists of expansive rock instrumentals fitting for immersion.
There's no denying that the crafting of "Undercurrent" is unconcerned with commercial pressures. After all, the album's average song length is upwards of eight minutes and lacks the digestible, electronic pop sound of his previous record 2014 record, "Akeda."
Yet, at the live show, this sonic uniqueness was appreciated by Matisyahu's fans who enjoyed not only the artist's biggest hits—"One Day," "King Without a Crown" and "Sunshine" to name a few—but the intense longevity of "Undercurrent's" gems.
Instrumental jams consisting of bombastic keyboards, guitar riffs and drum fills energized each part of the show.
Just that afternoon, Matisyahu noted that the newer music emulated a "real journey," and his spiritual moments of silence and closed eyes physically evidenced that mystical navigation.
Even as the night winded down and concert-goers trickled away from the colorful show and into the dull of the real world, those who remained standing in the balcony and pit were observably pumped as one song flowed into another.
Couples swinged with interlocked hips, single ladies two-stepped to Matisyahu's danceable grooves and the atmosphere teetered between a tropical club, rock show and relaxed, reggae-sparked fantasy.
And indeed, that's the dynamic, interpretable vibe that its creator wanted to achieve that evening.
"It's a background to your own experiences, and that's what I try to do live," Matisyahu said. "(At the show), the atmosphere is less about experiencing the performer, and more about people experiencing themselves."