A.S. Update: ARC expansion referendum, Rock the Vote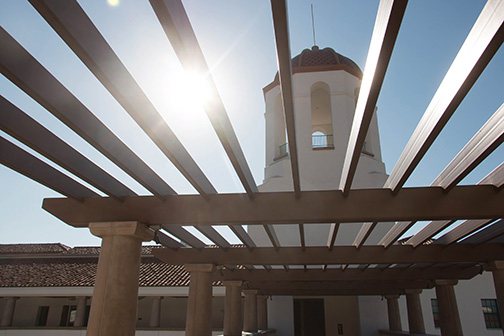 The Associated Students Campus Life Council met on Nov. 29 for its final biweekly council meeting of the Fall 2017 semester. The council discussed a referendum to expand the Aztec Recreation Center, the Rock the Vote campaign, and upcoming events.
Aztec Recreation Center expansion referendum
Director of Recreation Mark Zakrzewski, A.S. Vice President of University Affairs Chris Thomas, A.S. Recreation and Wellness Commission Representative George Scott and A.S. Recreation and Wellness Commissioner Mary Staka gave a presentation regarding a referendum to expand the ARC to about twice its current size. Zakrzewski said this expansion referendum is in response to high demand for recreation services at San Diego State that has resulted in crowded facilities and wait times.
Thomas said the expansion will add 70,000 square feet to the existing 78,000 square foot ARC. He said it will include additional weight and cardio space, new gender neutral locker rooms and restrooms, additional fitness studios, a climbing wall, a healthy eatery and an indoor running track.
Thomas said the referendum will be voted upon during the Spring 2018 semester. If passed, the expansion will be funded by a $195-per-semester student fee that will be included in tuition and fees. Thomas said the fee will be covered by financial aid and students will not begin to pay the fee until the expansion is complete, which is projected to be Fall 2021.
Thomas said the projected expansion includes a plan for a building with LEED Double Platinum status.
LEED stands for "Leadership in Energy and Environmental Design." LEED buildings are certified by the U.S. Green Building Council, and must follow strict environmental, sustainability and efficiency guidelines to qualify.
If the referendum passes, SDSU the first college campus in the nation to have two LEED Double Platinum buildings, Thomas said.
The Conrad Prebys Aztec Student Union was certified as an LEED Double Platinum building in  January.
"I see this development being a huge influence for other businesses in San Diego to see that (sustainability) is possible and that it's popular and that it's usable and feasible," said Charlotte Roberts, A.S. sustainability commissioner. "Hopefully this begins to be the norm."
The A.S. Campus Life Council will be meeting on Wednesday, Dec. 6 in the Conrad Prebys Aztec Student Union Council Chambers to discuss and vote on moving the referendum forward.
Rock the Vote and It's On Us campaigns
Carmel Alon, A.S. vice president of external relations, said there will be a Rock the Vote campaign April 9 – 27, 2018, ahead of California's primary election June 5.
Alon said the first week of the campaign will focus on local elections, the second week will focus on state elections and the third week will focus on federal elections.
"Voting is such an important thing," Alon said. "We're voting on a governor, we're voting on a senator, and we're voting on local officers. There's so much opportunity for you to empower yourself and empower your fellow students."
Alon also said SDSU will also be engaging in the It's On Us campaign, which is a nationwide campaign to fight against sexual violence on college campuses in the U.S.
Upcoming events
Dean of Students Randy Timm said there will be World AIDS Day activities in Montezuma Hall in the Conrad Prebys Aztec Student Union on Dec. 1. Activities will include an AIDS quilt and a movie from 3-4:30 p.m. A complete list of activities is listed on the SDSU events calendar.
Chloe Sabio, A.S. student diversity commissioner said there will be a "Student Diversity Celebration" on Dec. 1 from 4-7 p.m. in the Conrad Prebys Aztec Student Union.
Chris Thomas, A.S. vice president of university affairs said the Womyn's Outreach Association will be hosting a "Love Your Body" event on Dec. 5 in Scripp's Cottage from 3-5:30 p.m.
Thomas said there will be a "Your Voice Matters" event in the theater of the Conrad Prebys Aztec Student Union for student to have an open conversation about campus safety on Dec. 7 from 3-5 p.m.
Sedona Hill, Aztec Student Union Board commissioner, said there will be a Battle of the Bands event on Dec. 7 from 5-7 p.m. in Montezuma Hall in the Conrad Prebys Aztec Student Union. The Battle of the Bands is a competition to open for the SDSU GreenFest Concert in the spring.