Aztecs headed to the NCAA Tournament after 82-75 victory over New Mexico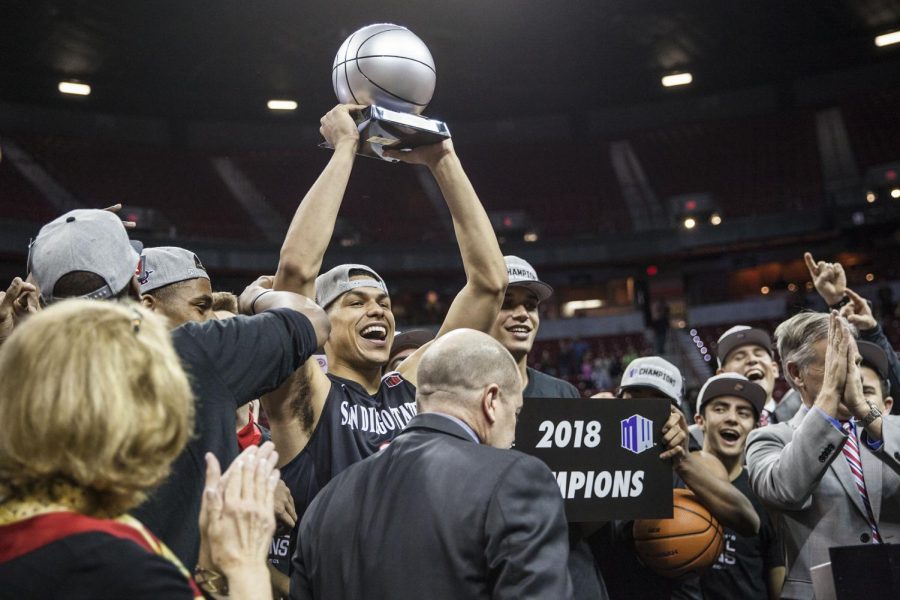 PANDEMONIUM!
San Diego State men's basketball came back from a six-point second half deficit to defeat the University of New Mexico, 82-75, in the Mountain West tournament championship game at the Thomas & Mack Center on Saturday.
"Congratulations to my Aztecs," head coach Brian Dutcher said. "We're grateful to be moving on to the NCAA Tournament after suffering disappointments in the conference tournament in the past."
Senior guard Trey Kell played hero-ball, scoring 21 of his career-high 28 points in a blistering second half which helped send the Aztecs back to the NCAA Tournament for the first time since the 2014-15 season.
"We came in wanting to win three, and we just needed one more tonight," Kell said. "I tried to do whatever I could to make sure that happened. And I'm glad we came out on top."
The Aztecs came into the tournament as the No. 5 seed, and defeated No. 4 Fresno State University and No. 1 University of Nevada to make it to tonight's championship game.
SDSU found itself in a six-point hole with 7:39 to play, before going on a 9-0 run to take the lead for good at 66-63 with 6:19 left.
The run was punctuated by a four-point play by junior forward Max Montana, who was fouled as he swished his first three-pointer of the contest.
"I told (Montana) that I thought he was going to do something special in this tournament," Dutcher said. "He hit the big corner three and got fouled, attacked the offensive glass, and he had his moment."
Kell appeared to injure his shin with 8:34 to play, but the Aztecs senior co-captain said there was no way he was coming out of the game with the team trailing.
"I felt like I was rolling at the moment. And I saw that we were down by about six," Kell said. "So for me, coming out because of an injury wasn't an option. I didn't want to go home. It was just as simple as that."
A layup by Kell gave the Aztecs a 76-69 lead with 1:28 to play, matching their largest advantage of the night.
The Lobos got to within 79-75 with 15 seconds to play, after a layup by junior guard Anthony Mathis, but they did not get any closer.
Senior Malik Pope and junior guard Devin Watson joined Kell in double figures, scoring 16 and 12 points, respectively.
Pope said that the team did not panic as they faced the late deficit.
"Stay focused. It's a game of runs, you know what to do, lock in," Pope said. "We knew stops and rebounds were going to seal the deal. And guys locked in and we followed through with that."
Senior guard Antino Jackson was one of five Lobos to score in double figures, finishing with a team-high 17 points to go with seven assists and four rebounds.
"I just felt like tonight I just fought," Jackson said. "I just feel like all of us kept fighting. I won't forget this for the rest of my life, just trying hard to the very end and not giving up."
The Aztecs went into the break with a slim 39-38 lead, after a back-and-forth first half that included three lead changes and saw neither team lead by more than eight points.
SDSU's biggest lead coming after a three-point play by Kell gave the team a 29-23 lead with just over five minutes left in the half.
The Aztecs came out cold to start the game, falling behind 12-4 after making only one of their first seven shots.
SDSU flipped with the script with a 14-2 run, punctuated by a three-point shot by freshman forward Matt Mitchell which gave the Aztecs an 18-14 lead midway through the first half.
New Mexico then tied the game up at 29-29, after back-to-back threes by Jackson and Mathis.
The Lobos shot 55 percent from behind the arc in the opening period, making six of 11 attempts to stay close.