Politics, African diaspora, European subcultures, hip hop music and autobiographical books might not seem like they'd be a part of a single, cohesive conversation, but during a combination workshop and discussion event on March 6, the diverse themes flowed in and out of one another.
Italian independent rap artist Amir Issaa — who published his autobiography "Vivo Per Questo" ("I live for this") in 2017 — led a rap workshop in the Digital Humanities Center at San Diego State during his book tour through the U.S.
During the workshop, Issaa helped small groups of students to compose rap lyrics in Italian.
The workshop was followed by a cross-cultural hip hop discussion with American hip hop artist Parker Edison and Issaa's manager Flavio Zocchi.
Organized by the Italian Club at SDSU, the trio talked about the history of rap and hip hop music in Europe and how the genre has evolved and grown since Issaa began rapping in the 1990s.
With more than 200 songs under his belt, Issaa has spent his musical career and his personal life breaking through barriers. In Italy, there are a lot of negative stereotypes and prejudices against hip hop music, Issaa said.
"Italy has a strong traditional, Italian music and it's hard to start to create new, musical movements like rap music and hip hop music," he said. "When I started, and all the rappers started, the people in Italy say 'You want to act like American guys.' I dressed with my baggy pants, and the people say 'You're not Italian.'"
Born in Italy to an Italian mother and an Egyptian father, he said he is often mistaken as a muslim immigrant instead of being associated with the Italian culture he identifies most with. When he was a kid, his father spent time in jail for drug trafficking, causing Issaa to be quiet at school.
"This is a strange story in Italy in this period," Issaa said. "(They were) real pioneers of the mixed couple."
Rap music, he said, helped to get him to let go of the negativity in his life and get out of his shell to open up as a teenager.
"The first time I listened to rap music, I listened to a song from Run DMC. This changed my life, because I think 'Wow, now I start to talk — to talk about my life,'" he said. "For me, it's easier to talk about the problems and issues with rap music than to talk with people."
Telling his story, Issaa said rap music is a medium through which people can express themselves. As a teacher, he uses rap as a tool to communicate with students, especially those who might not be responsive to traditional teaching methods.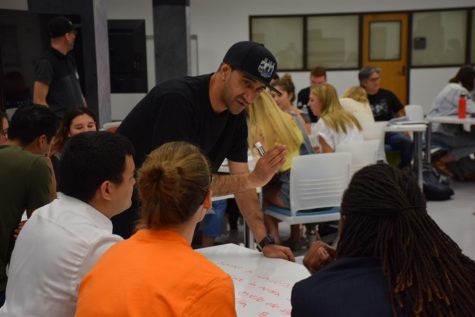 "Rap music, for me, is a medium to express without money, without big cars, without clothes, chains," he said. "It's a medium, it's a language, like the cinema."
Agreeing with the concept of rap being it's own language that crosses cultural barriers, Zocchi said he learned how to speak English through listening to rap and rock music.
"(I had) no years of English classes for me to learn English," Zocchi said. "I just learned French, and then I listened to hip hop music, listened to heavy metal music and listened to hardcore music to try to learn something in English."
In the early days of Italian rap there were two front-running categories of the genre. Artists fell into the campy, commercial style or their lyrics were deemed political. Not associating himself with either genre and simply trying to be true to his own personal style, Issaa said he was left without an audience.
Issaa's genuine approach to rap music might keep him from being a mainstream artist, but Edison said that is what makes him unique as a rap artists.
"I've had the chance to do a lot of different podcasts, and I thought that Amir was incredibly honest — I think that's something that's real dope about him," Edison. "He's not trying to be machismo or the 'typical rap character.' You would probably 'fit in' better if you were being fake, but you're being real and I think that really comes through."
During his 22 years of performing as a rapper, Issaa has steadily grown his fanbase in the Italian hip hop scene, even recording the full soundtrack for the 2011 film "Scialla! (Stai Sereno)" ("Take it Easy! (Stay Calm)."
Hearing about his journey from his troubled youth to the underground Italian rap scene, and eventually into mainstream Italian music market was inspiring, said Mariana Barrios, treasurer of the Italian Club at SDSU.
"I really loved getting to know what the music means for him and what he is trying to transmit to us," Barrios said. "There's a story behind everything, so it was great getting to know what the music meant for him and what a great passion he has for it and all the struggles he had to go through. It's great because it makes me appreciate his music so much more."
Though she had listened to Issaa's music prior to the event, Barrios said that hearing his story has inspired her to give his albums another listen.
"Now that I heard all of his story, that I heard his interest in it, his passion, everything that he's given to arrive and get to where he is right now, it's great," she said. "It makes me want to listen again to those songs and really pay more attention and look for deeper meanings in his words."