Students on campus get comfy with the Bomfy
Everyone loves a comfy blanket. They're soft, cozy and great for a rainy day.
But, what's better than a regular blanket? A blanket with a pocket for feet!
Introducing the Bomfy, a blanket big enough for two while also being soft, and a great place to put those cold toes during the winter season.
The Bomfy was created by San Diego State alumnus Cooper Lopez and business management senior Carlos Cortes. Their goal was to create the most comfort with minimal effort.
The founders said it all started while laying on the couch and realizing that feet are not always covered while lounging around.
With that, the foot pocket was born.
"The main idea was to create a brand made for everyone," Lopez said.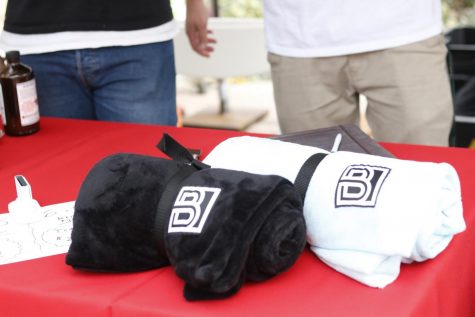 By adding extra fabric to the end of a blanket and tucking it underneath, the idea became a true reality in short time.
Manufacturing of the Bomfy began in May 2017. Since then, the Bomfy has just had its second restock of shipment and is now being seen in numerous areas around the SDSU community.
The blanket comes in two different sizes, the 6 feet by 4 feet and the 6 feet by 5 feet.
This blanket can be bought to share, or just for oneself. This is great for those "Netflix and chill" nights, or even a study night at home with roommates.
"Once I tried the Bomfy, I knew I had to have one. They're so comfy and soft," marketing junior Marchella Marconi said.
One of the main visions the creators had was for the Bomfy to be used as a source of entertainment, and as an aid for the nights when guests come over.
The Bomfy comes in a variety of colors to fit any room and can be folded up small enough to be stored when not used.
The Bomfy is currently being sold in mint green and black colors.
"The Bomfy is a very versatile blanket and can be used for a variety of things. The fabric is my personal favorite part," international economics senior Stellan Christensen said.
The Bomfy seems to be the talk around SDSU and according to Marconi, her friends always fight over the fun blanket.
These two entrepreneurs have only started their journey with the Bomfy and are thinking about possibly attending a Shark Tank expedition as well as many other events to further their product.
The Bomfy can be used by anyone and for anything, and that is what sets the brand apart.
The Bomfy was sold in the Conrad Prebys Aztec Student Union student on campus on March 7 at  Entrepreneur Day.
Many students that day embarked on "The Bomfy Experience."
The best way to purchase the Bomfy is at bomfyb.com and check out the product on Instagram @bombfyb.
Go get comfy, and get that Bomfy.